Using the SecurityTrails API™ for Bug Bounty Programs
Reading time: 1 minutes
Bug bounty programs are quite popular in software developer communities around the world. The way they work is fairly simple: developers find and report bugs to the company who owns and runs the software, gain recognition, and in most cases, compensation for their valuable help.
Here at SecurityTrails we have several API packages available to all who want to report their findings, using our highly intelligent platform. You can use this free platform at https://securitytrails.com to discover interesting information and apply for any popular bug bounty programs, just as @bnchandrapal did.
He used DNSTrails API + python scripting to find around 5k domains on GitHub + 1k domains hosted on GitLab pages that can be vulnerable to certain DNS attacks, then [reported][reported] this to Gitlab, and they were able to start working on a permanent fix for this bug: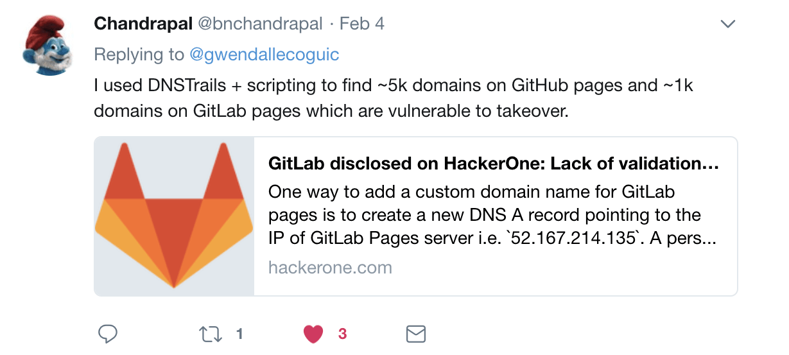 You can also begin automating your bug bounty hunting a bit more by using the SecurityTrails API™.
OSINT Toolkit: This new plan launched in 2021 allows you access to the SecurityTrails API™ with 2,500 queries/month, and enables you to access data to discover associated domains, perform a full subdomain enumeration, as well as DSL v1 access (including open ports), DNS and WHOIS historical data, all for only $99/month.
SecurityTrails offers a great security platform that's used by developers, researchers and companies all over the world to report bugs, exploits and vulnerabilities.
Start winning community recognition, plus some extra cash!

Sign up for our newsletter today!
Get the best cybersec research, news, tools,
and interviews with industry leaders