Attack Surface Monitoring: Definition, Benefits and Best Practices
Reading time: 9 minutes

The firewall, IDSs, EDR platforms and proxies are your first line of defence. They're the locks to your entire network, and your scanners are the security cameras that allow you to see what goes on inside. And while these security controls traditionally help to achieve a decent security posture, the threat landscape is rapidly and constantly changing—along with your attack surface.
Digital transformation, together with cloud mitigation, hosting and even the many new digital channels used for advertising, data collection and user experience, drive not only technological advancements but also the expansion of the attack surface. Today's organizations don't have their millions of digital assets secured tightly behind their perimeter, they're scattered all over the Internet, often unprotected from the prying eyes of malicious attackers.
Many threats lurk outside of the security perimeter. Because of our ever-changing Internet, the more traditional methods of securing networks remain relevant, yet haven't been created to address the many modern risks we encounter today, on the other side of the firewall.
Add to the mix that digital assets are also changing and multiplying; domain ownerships change, SSL certificates expire, staging environments remain public, employees download non-authorized software, and more.
Attack surface management (ASM) is a cybersecurity methodology that addresses the identification, inventory, classification, monitoring and prioritization of all the digital assets an organization owns. And critically, one aspect of ASM solutions and processes requires specific attention as it addresses security gaps left by many similar tools.
Continuous monitoring of the attack surface allows for real-time visibility into ever-changing digital assets and the overall threat landscape by recognizing the what, when, who and where of an organization's network. While we have dissected the definition, types, benefits and best practices of attack surface management, it's now time to take a closer look at what attack surface monitoring represents, and how this methodology can help us even outside of the scope of a single ASM solution.
What is attack surface monitoring?

For most organizations, their attack surface is composed of assets that belong to four categories:
Known assets: Legitimate assets that are visible and managed by security teams, such as the corporate website, main subdomains, network services, SSL certificates, servers and dependencies running on them, and the like.
Unknown assets: Here we have assets that are outside the scope of your security team, such as shadow IT, or orphaned IT infrastructure such as old VPS, cloud infrastructure, dev and staging environments, remote access points, etc.
Third-party assets: Don't be fooled that only "your" assets make up your attack surface. Third-party vendors and services present a significant risk; for example, in M&A, where a smaller organization with lesser security posture is acquired by the organization, and with it, poor security is now introduced to the infrastructure of the larger organization. This expands its attack surface and increases the risk of attack.
Rogue assets: This is the malicious infrastructure set up by malicious actors, such as cybersquatted and typosquatted domains, phishing websites that impersonate yours, and command and control servers.
Divided into these categories, digital assets can number from tens of thousands to millions. We often say "you can't protect what you can't see," and for good reason: Good security posture and resilience to cyber attack begins with visibility into all the assets an organization owns, yes, but it certainly doesn't stop there.
Continuous attack surface monitoring means 24/7 monitoring of an organization's entire infrastructure and all digital assets, in order to discover any newly found security vulnerabilities, weaknesses, misconfigurations and compliance issues. It provides real-time visibility and feedback about the organization's entire digital infrastructure with the goal of protecting sensitive data and speeding up remediation of potential security threats.
Known assets will need to be patched, forgotten shadow and orphaned IT can be easily found by attackers, and rogue assets are frequently created and hide in plain sight for a long time. This is where attack surface monitoring comes in, helping organizations discover and monitor all of these digital assets regardless of their location on the network: public clouds, third-party networks, or even on the world wide web, as OSINT about your organization that is easily obtained by attackers.
Organizations can then continuously assess their overall security posture and determine whether any of their assets carry risks, determine whether they're complying with security policies, identify indicators of attack, and finally provide actionable and proactive risk management.
What are the main benefits of attack surface monitoring?

Organizations of all sizes must take steps to secure their network and sensitive data in the rapidly changing threat landscape. Attack surface monitoring helps organizations pinpoint all of their assets and risks that they carry. Here we've outlined the main benefits to implementing continuous attack surface monitoring: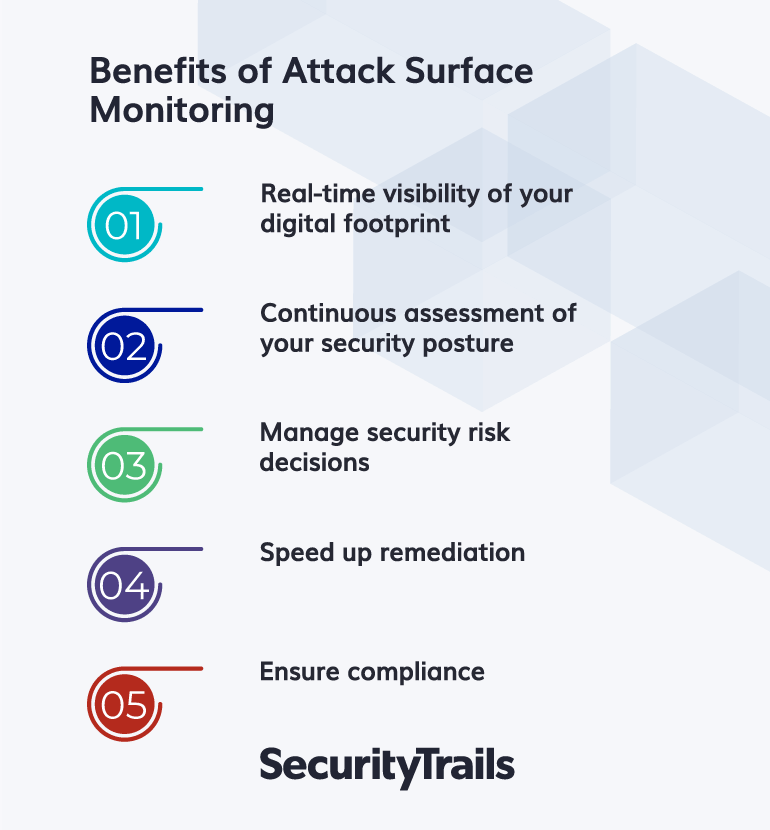 Real-time visibility of your digital footprint

As stated, attack surface monitoring begins with visibility into all the assets owned by an organization and its third parties that contain or transmit sensitive data. Because it's imperative to fully know and understand your entire IT infrastructure, attack surface monitoring takes it one step further to provide real-time visibility into all digital assets and the changes they undergo. As one's attack surface is constantly evolving, having this continuous visibility into their state, location and overall security rate is critical in understanding your digital footprint and the risks that could lead to a cyber attack.
Continuous assessment of your security posture

Full- and real-time visibility into all of your digital assets means attack surface monitoring also empowers you to be aware of your security posture at any point, allowing you to determine your ability to manage risks and attacks in due course. The state, location and vulnerability of your digital assets will inform your resilience to cyber attacks—and doing it continuously will allow assessment of your security posture as your attack surface evolves. This in turn will inform a more robust security program and where your attention should be focused.
Manage security risk decisions

If not addressed quickly and properly, many security issues and problems with your attack surface can lead to disruptive data breaches. Continuous attack surface monitoring will allow you to secure your environments as potentially dangerous changes occur, and being proactive means you can prevent attacks rather than react to them. Once you know and understand the risks of your digital assets and the possible entry points for attackers, you'll be able to make better decisions for managing cybersecurity risk.
Speed up remediation

Now that you're aware of all the risks and vulnerabilities in your attack surface and digital assets, you can work on prioritizing remediation efforts for each of them. With the "continuous" factor of attack surface monitoring you're aware of a risk as soon as it appears in your infrastructure, giving you the chance to resolve impending issues and optimize your cybersecurity defense.
Ensure compliance

Data loss prevention trends are growing, such as government-imposed mandatory regulations like GDPR, HIPAA, PCI DSS, as well as organizational security policies about handling sensitive data. These compliance regulations secure personally identifiable and other sensitive data, and breaching them can lead to hefty fines for the organizations, not to mention the reputational damages they might suffer. Attack surface monitoring allows an organization to discover any failure to comply with regulations and organizational security policies, an efficient way of avoiding any repercussions they might cause.
What are some attack surface monitoring best practices?

We mentioned that attack surface monitoring is usually a part of an attack surface management solution, but there are some best practices to follow regardless of whether you're putting checkmarks in your chosen ASM solution and their monitoring abilities, or taking on the process of attack surface monitoring as a standalone methodology.

Here are some key practices for achieving effective attack surface monitoring, which should be incorporated in the ASM solution you choose:
Identify and prioritize

Continuous monitoring of all digital assets an organization owns is both resource-intensive and expensive. Not every organization has the team, resources and budget needed to do it. This is why organizations need to identify and prioritize their monitoring efforts and focus on their most important assets.

Assets need to be sorted based on their criticality, whether they hold sensitive information, which sensitive information, how vulnerable they are and what business importance they hold. Thorough prioritization helps to ensure that attack surface monitoring can be used effectively for organizations of all sizes, and safeguards its effectiveness. Likewise, focusing on the wrong area can lead to unnecessary spending of resources (including money) and potentially missing a data leak or cyber attack.
Establish a vulnerability patch process

As you identify and monitor your assets, vulnerabilities and weaknesses will show up on them. It is vital to not only continuously remain aware of all the vulnerabilities that can be exploited in your network, but also to have a patch management process in place that helps acquire, test and install patches on your network's existing services and applications. An effective patch management process will ensure all bugs are fixed as quickly as they arise, enabling all of your systems and applications to stay updated to their latest version. Their appropriate patches will ensure that no CVEs you might have in your digital assets are exploited.
Don't forget the endpoints

Phishing emails are one of most common social engineering tactics malicious attackers employ to gain access to your system. An unsuspecting employee could click on a wrong link, and that would be all it takes for attackers to make their way into the network and wreak havoc from there on.

Many organizations focus their efforts on digital assets but forget one crucial component of their attack surface: endpoints. This is why continuous attack surface monitoring also needs to concern your endpoints (including laptops, desktops, servers, mobile devices, IoT, etc.) in order to detect, protect against and prevent cybersecurity threats from taking effect on those devices.
Be alerted of any changes as they take place

Attack surface monitoring activities can prove easier for smaller organizations, which can even employ manual methods to achieve it. However, automation is the secret key to full efficiency of your monitoring efforts, speeding up the entire process and making it more manageable. This is usually empowered by solutions and systems that provide real-time alerts and notifications of any changes on your infrastructure, provide insight into what those changes are, and inform security teams regarding the criticality and power of decisions regarding remediation if security risks are involved.
Attack surface monitoring done right with ASI

We've recently launched our newest enterprise-grade product: Attack Surface Intelligence. ASI makes attack surface monitoring easy by showing you a detailed digital fingerprint inventory, detecting the different security risks your organization may face and instantly alerting you of any changes to your infrastructure. Remember, it's not a vulnerability if you catch it in time, and with ASI and our continuous attack surface monitoring you'll be able to prevent attacks well before they might occur.

With ASI you'll be able to:
Discover all your Internet-connected assets with greater accuracy and fewer false-positives
Streamline how you see digital assets like VPS servers and cloud infrastructure
Resolve critical unknown risks and make the right call when it comes to securing digital assets

Sign up for our newsletter today!
Get the best cybersec research, news, tools,
and interviews with industry leaders