Top 10 Cloud Migration Mistakes and How to Avoid Them
Reading time: 12 minutes

Organizations are rushing to move their applications and data to the cloud as cloud adoption rates keep soaring year after year. Whatever the industry or size of an organization, it's apparent that everyone is moving to the cloud.
It's not hard to see why, with all the benefits cloud migration offers: reduced costs, improved application performance, flexible storage, faster deployment time, enhanced security features to just name a few. But before you say goodbye to your on-premise systems, there are some important aspects of cloud migration that need to be considered.
Be mindful of mistakes that can be made in the process, with consequences that can range from delays and canceled efforts to higher costs and, in the end, unsuccessful cloud migration.
10 common cloud migration mistakes

Knowing and understanding cloud migration mistakes is the first step organizations need to take when embarking on this effort. The next step would be to correct these mistakes and plan accordingly to avoid them.

Here we have highlighted the 10 most common cloud migration mistakes and the appropriate steps to avoid them, so you can enjoy the benefits of cloud computing without any major roadblocks along the way: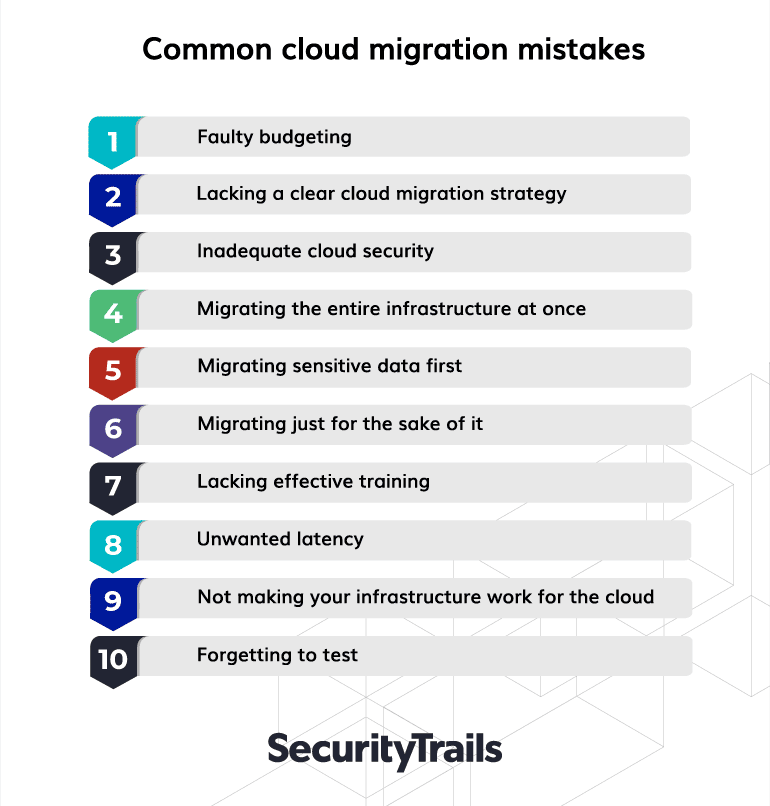 Faulty budgeting

While cost and return on investment are, collectively, considered to be among the biggest benefits of cloud migration, that's ultimately one of its biggest misconceptions. There are affordable and low-cost solutions out there, but the truth is that they are usually nowhere nearly comprehensive enough for businesses looking to reap the benefits from it.

The process of cloud migration can be a costly one, and it is a process—during the period of cloud migration it is entirely possible to run into unexpected time delays and excessive budgetary spending.

Organizations looking to migrate to the cloud need to factor in the estimated time and budget needed to make the move, to avoid exceeding the budget and timeline. Furthermore, when migrating an infrastructure that isn't designed to withstand the disturbance of IT operations that can come with cloud migration, and allow the business to continue as normal, more costs can accumulate.

Whatever the cost of cloud migration, you should never start the process without first analyzing the cost and timeline requirements, to get at least a rough estimate. This will ensure that this not-that-small of an investment brings you the most of the benefits for which you wanted to migrate to the cloud in the first place.
Lacking a clear cloud migration strategy

A cloud migration strategy is the plan an organization makes when deciding to move their infrastructure, apps and data from an on-premises architecture to the cloud. But a cloud migration strategy is not a one-size-fits-all affair, and it can become overwhelming for many organizations. Doing due diligence in finding the most efficient way to prioritize and migrate your infrastructure is crucial.

The exact roadmap for cloud migration depends on the size and complexity of your infrastructure. Before starting, you need to be clear on the reasons for the cloud migration. What benefits do you want to see from the migration? Is there any data you might want to keep stored on-premises?

The first step would be to assess your current environment and work out the cloud server requirements based on current application resource requirements.

Next, decide on what kind of cloud model you want to adopt. This will depend on which will serve your needs the best. The choice between using a public cloud, private cloud, hybrid cloud or multicloud is all yours.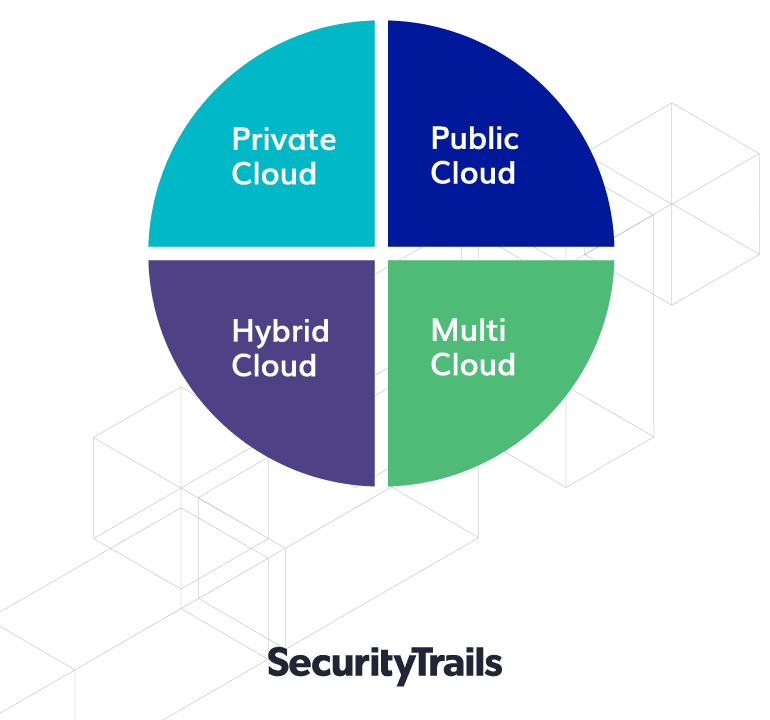 When it comes to a public, private or hybrid cloud and, in general, choosing one cloud provider, there is always a risk of vendor lock-in—which can cause over-dependence on a single provider. This means that any future moves to a different vendor can be followed by substantial costs, technical inconsistencies and even legal issues.
On the other hand, while opting for a multicloud can provide a level of freedom, security (by storing sensitive data and workloads in a private cloud, and other infrastructure in a public one), more computational resources and cost-savings with the use of a public cloud for parts of the infrastructure, it can still prove too complex for some organizations.
The most important thing with planning for cloud migration is to not act too quickly. It's essential to carefully set up a foundation that will cover your needs, requirements, reasons for migration and choosing the right solution. Don't jump on the bandwagon of popular providers that might not work for your infrastructure.
Inadequate cloud security

Securing your data doesn't stop when you migrate to a cloud. In fact, cloud migration shouldn't even be started before assessing the cyber security risks, threats and capabilities of your cloud provider (or providers).

And the risks don't only wait for you once you migrate—the process of migration is a highly vulnerable one due to the sheer volume of data in transit that is often moved without proper security measures and controls, a common nightmare for mergers and acquisitions.

Many security threats and risks can be found for both on-premise systems and the cloud, and there are some cloud-native ones. Some of the most common cloud security threats and risks are misconfigurations, insider threats, lack of IAM, exposure of dev and staging environments, poor regulatory compliance, insecure APIs, lack of visibility, and more. These threats might require non-traditional approaches when it comes to cloud environments.

The shared responsibility model of cloud architecture means that the cloud provider is responsible for protecting the cloud, but you are responsible for protecting what is in the cloud, as seen in our previous blog post 5 AWS Misconfigurations That May Be Increasing Your Attack Surface.

Some of the critical steps to take for ensuring data privacy and a proper security posture when migrating to the cloud are the encryption of all data (both in transit and at rest), employing multi-factor authentication, implementing required security controls and configurations, isolating individual workloads, and supporting your team on how to maintain cloud security.
Migrating the entire infrastructure at once

You don't rush a cloud migration. We mentioned that before starting the process of migration, estimating the necessary costs and time for it is crucial. It's important to know that migrating to the cloud doesn't come right after you've laid out your strategy. So however tempting it can be to move your entire infrastructure all at once, the process is and should be lengthy to ensure a successful migration.

Cloud migration can take months, maybe even years. It all depends on the amount of data, applications and infrastructure to be migrated. Following this, cloud migration should be done in stages, migrating data in an order that makes the most sense—starting with non-essential data, and moving towards more sensitive data later. Furthermore, not everything needs to be migrated; some sensitive and highly confidential data is more appropriately stored in on-premise systems.

Perform an analysis of the parts of your infrastructure that should surely be migrated to the cloud, set a plan of what will be migrated and at what time and in which order, and ensure the process is supported by your team at every stage to make for efficient and low-risk migration.
Migrating sensitive data first

So, the order in which you migrate your data is important. A common cloud migration mistake organizations make is to start with sensitive data. If you begin with migrating business-critical and confidential data first, and any mistakes and risks occur during the process, that critical data will be at risk. And mistakes aren't that uncommon when you're just starting out with a provider and process you're still not fully comfortable with.

The recommendation for cloud migration is to address non-critical data and operations testing first, to avoid any risks that can cause business disruptions, added costs and pushing over the timeline.
Migrating just for the sake of it

Yes, the cloud is great and cloud migration has numerous benefits for organizations of all sizes. Cloud computing is transformative for many businesses and research shows that 73% of them rely on the cloud to some extent. Heck, some business models wouldn't even be possible without relying on the cloud. But all the praise, including people boasting of it as a solution to every technological problem, doesn't hold up.

Every organization, operation and type of data isn't fit for the cloud. Privacy is a huge concern for cloud computing as you are essentially handing your critical data over to the cloud—on the internet. And you can be just one misconfiguration away from exposing it to anyone there.

Another disadvantage of cloud computing is its dependence on your internet connection's reliability. So if your service suffers from frequent outages, cloud computing might not be the best option.

Next we have the cost. The cloud is often commended as a cost-effective alternative to sometimes expensive software solutions run in-house, and at first glance, it might seem like it. But that isn't always the case when it comes to customizing cloud service to suit your needs, when the costs can rack up. They increase when software developed in-house needs to be re-written for migration to the cloud.

And what if you just set up a new server a few months ago or employed a new software solution recently? Choosing to migrate to the cloud might not be the best option for you at this particular time.

We also mentioned the vendor lock-in that comes with choosing a single cloud provider: the overdependence on one provider that might not offer solutions for your changing needs and the difficulty of switching to another provider are both worth noting.

And last but not least, as we touched upon earlier, not everything needs to be moved, and not now. You can always start with migrating parts of your infrastructure that make the most sense to do so, and work your way towards the other parts later, if needed. This will reduce not only the costs and headaches of enjoying cloud computing, but also its disadvantages.
Lacking effective training

A common mistake organizations make with cloud migration is to not train their staff to handle the new use of technology. Your team is one of the most important components of ensuring successful cloud migration—and not training them properly means you're setting yourself up for failure.

Untrained employees can mean a lot of unintentional misconfigurations and accidental data leaks with devastating consequences to your organization. After all, human error is one of the most frequent culprits in data breaches.

And when we say training, we don't mean a one-day course with a multiple-choice test at the end. Training your team to be comfortable with the cloud should be a continuous, engaging process that includes work with the cloud itself, just as involved as any efforts to create and maintain a healthy cybersecurity culture in your organization. Additionally, implementing clear regulations and procedures can aid greatly in avoiding human error.

Still for some, it might be more useful to bring in an experienced team who can jump right in, from whom your current team can learn with hands-on experience. This will help to ensure safe and successful cloud migration, with all of its inherent cloud-computing benefits.
Unwanted latency

Cloud computing, while essentially meaning "moving to the internet", is still made possible by physical servers in different geographical locations. The process of accessing applications, databases and services can lead to unwanted latency that is caused by the geographical distance between your devices and a cloud provider's services.

Organizations can forget that. Today, delays and trouble in accessing your services can prove quite brand-damaging and result in negative customer experience.

The first step to take in this area is to establish an understanding, by informing all stakeholders that the use of the internet for transport will never be completely rid of latency issues. One straightforward solution to high latency is to look for cloud providers that have servers and data centers close to your geographical location. For some business-critical apps that are known to be highly sensitive to latency, keeping them in-house might be the better option.

For a best-of-both-worlds solution, leverage a hybrid cloud architecture and keep the parts of application that are latency-sensitive in-house, with the other parts migrated to the cloud, to reap the benefits of cost saving, ease of management and scalability.

For some larger budgets, using a dedicated WAN link offered by your cloud provider can be a good step toward reducing high latency. And while this won't really eliminate high latency, the use of application performance monitoring (APM) tools can help you identify whether the latency is occurring on the network or on the application itself, helping you make better-informed decisions in tackling this commonly forgotten cloud computing issue.
Not making your infrastructure work for the cloud

"Lift-and-shift" is the process of migrating an exact copy of an application or a workload from on-premises to the cloud. While it's a legitimate approach that yields lightning-speed migration, it doesn't excuse not tailoring your cloud environment to work for your application, and vice versa. Even if, in this case, an application's architecture remains unchanged, there will still be a need for certain changes, configurations and monitoring in the cloud to ensure everything is working properly.

The complexity of your current architecture can also pose a major roadblock in migrating to the cloud. It can slow down the migration process by needing re-writing and changes to the architecture to work for the cloud.

Before you start cloud migration, audit and assess your infrastructure. Consider how users are currently accessing your application and how that will change after the migration. Should there be a redesign to best support users? Review each application architecture for compatibility and to support optimization of the cloud platform. Be open to re-architecture of the application but also the surrounding processes and policies. And again, not every application needs to be migrated to the cloud. Some might yield better business and operational outcomes if they remain on-premises.
Forgetting to test

Finally, once you've migrated to the cloud, don't expect everything to work as needed immediately. Watch the processes and applications as well as your services, and reconfigure as you go. Some apps that are moved to the cloud will not work the same as before. Some features might not be that familiar to your team. Just be sure to test any application and part of infrastructure you migrate to the cloud to ensure they're working properly, before you sit back and enjoy successful cloud migration.
Final words

Cloud migration is a complex process and overlooking any element or aspect of it can prove detrimental to a successful migration. The right combination of business processes, technology and people will set us all on the right path to enjoying the benefits of cloud computing that many organizations are already enjoying today. Just make sure you understand the risks and common mistakes we've explored that can hinder cloud migration success.

Sign up for our newsletter today!
Get the best cybersec research, news, tools,
and interviews with industry leaders