Best Cybercrime Investigation and Digital Forensics Courses and Certifications
Reading time: 12 minutes

Cyber criminals target networks in the private and public sector every day, and their threat is growing. Cyber attacks are becoming more common, more menacing, and in the public sector, can compromise public services and put sensitive data at risk. It happens all the time in the private sector too: companies are attacked for trade secrets, customer information and other confidential details. Individuals aren't spared either and are falling victim to identity theft, fraud and various other types of cybercrime.
For the prosecution of such acts, preserving and recovering digital evidence is absolutely critical. In the same way a "traditional" detective or law enforcement agent explores crimes in the physical or material sense, a cybercrime investigator delves into internet-based crimes.
A cybercrime investigation is the process of investigating, analyzing and recovering digital forensics data from networks that have been attacked, in order to identify not only the perpetrators but their intentions as well.
Cybercrime investigations are conducted by experts in criminal justice, national security and private security agencies—and cybersecurity investigators, experts and blue teams all play an indispensable role in preventing, monitoring, migrating and investigating all types of cybercrime against networks, servers and data in private organizations, as well as home devices.
Top 8 cybercrime investigation and digital forensics courses and certs

Cybersecurity investigators are highly knowledgeable in numerous aspects of cybercrime, including their different types, legal aspects, methods of protection, necessary investigation techniques, and digital forensics. In order to deal with cybercrime incidents in the appropriate manner—from incident response to acquisition and preservation of evidence and advanced forensic analysis—cybercrime investigators require a combination of education and experience to be successful.

For aspiring as well as experienced cybercrime investigators seeking additional knowledge and education, courses and certifications provide a wise option. Security professionals working in other fields can also benefit from acquiring cybercrime investigation and digital forensics skills.

Some general information security certifications such as the Certified Information Systems Security Professional (CISSP) and Offensive Security Certified Professional (OSCP) can be highly useful for cybercrime and digital forensics investigators. Other, more specialized certifications and online courses in the field are also recognized in the industry.

We rounded up our picks for the best cybercrime investigation courses and certifications, listed in no particular order. The list is more focused on vendor-neutral courses and certs so the well-known AccessData Certified Examiner certification didn't make this list.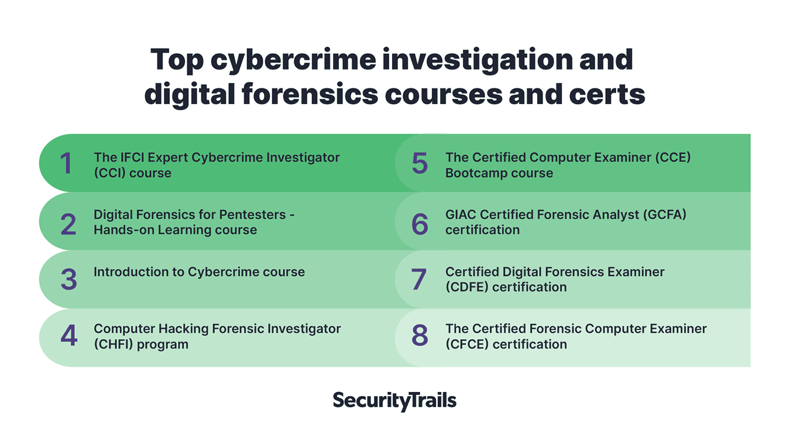 1. The IFCI Expert Cybercrime Investigator (CCI) course

The Cybercrime Investigator's course (CCI) is the flagship training program of The International Fraternity of Cybercrime Investigators available on Udemy. Also known as the IFCI-CCI, this course provides the foundational knowledge needed to kickstart a cybercrime investigator's career, and then some.

The CCI covers every aspect of a cybercrime investigation including intrusion investigations, incident response, attack vector identification, and cybercrime profiling, with hands-on labs emulating real-world scenarios. The main goal of the course is to arm aspiring cybercrime investigators with the knowledge and skills needed to perform their work successfully.

The course features 13 sections with more than 100 lectures and 15 labs. The sections include:
Core concepts of computer forensics
Incident response and forensic acquisition
File deletion recovery
Email analysis
Internet activity analysis
Malware and network intrusion analysis
Dynamic malware analysis
By taking the CCI cybercrime investigation course, students will be able to respond to cybercrime incidents, conduct full system computer forensic investigations, identify and analyze malware, learn the differences between and interconnectivity of cybercrime and cyber espionage, cyber terror and nation- and state-sponsored attacks, cybercriminals' techniques and tactics, and how to defend against them.
The IFCI-CCI is a solid introductory course for cybercrime investigation. While some of the material is outdated, it does provide students an introduction to the world of forensics, offering the foundational knowledge needed for a career in cybercrime investigation.
2. The Digital Forensics for Pentesters - Hands-on Learning course

The Digital Forensics for Pentesters course is one of the bestselling courses in digital forensics on Udemy. Created by Professor K, the course has had over 35,000 students enrolled and acts as a foundation for pentesters and security professionals wanting to expand their knowledge into the field of digital forensics.

The course's popularity is due to the hands-on, applied learning that it offers. The creator highlights that this is not a lecture-driven course; video tutorials and labs will help students understand the key concepts of digital forensics as it relates to pentesting and ethical hacking.

The course creator cites the requirements as a good knowledge of computers, networking and pentesting basics. Students will learn how to forensically image devices, recover deleted data, properly handle digital media during the investigation, use various forensic tools and create professional and legal forensics investigation reports.

Topics covered in this course include:
Building your own forensics lab
Using Kali Linux forensics mode
Using Shodan
Dumping Wi-Fi credentials
Email header analysis
Reverse engineering and malware analysis
Wireshark for network forensics
Four CTFs
Pentesters eager to gain skills in digital forensic investigations should look no further than this course!
3. The Introduction to Cybercrime course

Now for the real introductory courses, we have Introduction to Cybercrime, available on Udemy and created by Kevin W. Jennings, Ph.D. The course is intended for beginning cybersecurity students, criminal justice students, investigators and law enforcement and anyone interested in cybercrime who's looking for a good place to start.

The purpose of this cybercrime introductory course is to provide an overview and foundational knowledge of cybercrime including the basics of computer technology, the history of computer crime, types of cybercrime, its legal aspects, defenses against cybercrime, techniques used by investigators and digital forensics.

Introduction to Cybercrime will also educate students on how to identify different types of cyber attacks and how to protect against them. There is also a focus on cyber investigations, online fraud, criminal justice and criminology, cyber terrorism, and legal issues surrounding cybercrime.

For an idea of course material, we've highlighted a few of the lectures:
Hardware
Law enforcement and cybercrime
History of hacking
Types of malware
Intellectual property violations
Networking
Cyberbullying and cyber stalking
Criminological theories applied to cybercriminals
Digital forensics analysis
Password cracking
The Introduction to Cybercrime is an amazing course for anyone with little to no knowledge on the subject of cybercrime and digital forensics — a true beginner's course. All concepts are outlined in a way that is easy for anyone to understand and leaves enough room for further education.
4. The Computer Hacking Forensic Investigator (CHFI) program

The Computer Hacking Forensic Investigator (CHFI) program is a vendor-neutral course by the EC-Council that teaches the fundamentals of computer forensics and evidence collection for those seeking to enhance their cybercrime investigation career. Once they complete the course, attendees will need to pass the final exam in order to be CHFI-certified.

CHFI is a lab-focused program with approximately 50% of its training dedicated to labs that provide attendees with knowledge of computer forensics, evidence analysis and hands-on experience with different cybercrime investigation techniques and tools.

The course is designed for IT professionals who want to be or are involved with information security, incident response and computer forensics. CHFI course attendees frequently include police and law enforcement personnel, systems administrators, legal professionals, security professionals and anyone interested in cybercrime investigations.

Topics covered by the CHFI include:
Computer forensics investigation process
Incident response
Security and threats to databases, cloud, emails, mobile, IoT, malware and dark web
Legal, privacy and compliance issues
Types and characteristics of digital evidence
Forensics investigation process and methodology
Labs on digital forensics and all covered topics
Tools, systems and programs for digital forensics and cybercrime investigation
When completing the course that prepares them for the final exam, attendees will have proven ability to collect data using forensics technology and procedures, perform anti-forensic methods detection, analyse various logs (firewall, intrusion detection systems, router, DHCP logs) to investigate network and web-based attacks, and analyze malware behaviour on both the system and network level.
Ultimately, the CHFI teaches attendees cybercrime investigation techniques and skills used by government, police and private sector organizations—which is why many of them recognize the CHFI course as a respected forensic investigation program.
5. The Certified Computer Examiner (CCE) Bootcamp Guided Self-Study course

The International Society of Forensic Computer Examiners (ISFCE) offers their Certified Computer Examiner (CCE) Bootcamp Guided Self-Study course. The course prepares students to apply for the Certified Computer Examiner certification which is designed for those who already have proven experience in the field. The CCE certification is advanced and fairly exclusive due to its rigorous examination process.

The CCE certification provides a vendor-neutral process for testing the knowledge and practical skills of computer forensic examiners, and is aimed at those who plan to testify in court as an "expert" witness.

The Bootcamp course is a great option to prepare for the cert or even to simply obtain knowledge in the field. Bootcamp students frequently include information security professionals, auditors, government, military and law enforcement and all who wish to further their career in digital forensics.

While the course does focus on standard forensic procedures and techniques, you can also learn how to conduct examinations and collect evidence that can be admitted in court.

There are some core competencies that a candidate for a CCE certification should have, including at least a basic understanding of them (covered in the Bootcamp).

Some of these competencies are:
Legislation related to digital forensics
Commonly used forensic software and tools
Hardware identification
Common digital evidence
Networking
Mobile forensics
Media geometry
Forensic media and imaging techniques
Low level analysis
Forensic examination procedures
The practical tests consist of dealing with real-world scenarios and examination techniques such as file recovery, formatted disks, data carving, NTFS exercises, password cracking and others.
The CCE certification is a widely respected, advanced-level certification that is reserved for professionals already practicing in the field of digital forensics. The Bootcamp course provides the required training to obtain it, but even merely taking the course lends itself to a good educational experience.
6. GIAC Certified Forensic Analyst (GCFA) certification

GIAC certifications have found their spot on two of our previous lists regarding information security, and now another cert has ended up on this list. The GIAC Certified Forensic Analyst (GCFA) is a vendor-neutral certification for intermediate-level computer forensics practitioners.

The GCFA tests the candidate's knowledge, skills and ability to collect and analyze systems data, conduct computer forensics investigations and handle advanced incident handling scenarios. It covers scenarios involving external and internal data breaches, threat hunting, advanced persistent threats (APT), memory forensics, and anti-forensics detection, among others.

This certification is intended for incident response teams, threat hunters, SOC analysts, experienced digital forensic analysts, federal agents and law enforcement professionals, red team members and pentesters.

Topics relevant to exams for GCFA certification include:
Enterprise environment incident response
File system timeline artifact analysis
Identification of malicious system or user activity
Identification of normal system and user activity
File system timeline forensics
Volatile data forensics
NTSF artifact analysis
Windows artifact analysis
There is also practical testing available called CyberLive that emulates real-world scenarios featuring a lab environment where practitioners will perform tasks with actual programs, code and virtual machines. Upon earning their GCFA certification, professionals can work towards reaching Gold status that include a 20-page technical report under supervision within six months.
GIAC is a respected infosec certificate issuer and this certificate is highly regarded. It's a great option for professionals with experience in the digital forensics and cybercrime investigation field that will help them further their career and prove their skill.
Another popular GIAC certification, and honorable mention, in the field is the Certified Forensic Examiner (GCFE) which caters to IT professionals involved in incident response, law enforcement professionals, and anyone whose duties include analysis of digital media from Windows computers.
7. Certified Digital Forensics Examiner (CDFE) certification

The Certified Digital Forensics Examiner (CDFE) certification is designed specifically for cybercrime and fraud investigators. Created by Mile2, it offers substantial training to help students prepare for the final exam to become certified.

CDFE training focuses on the methodology for conducting computer forensic examination including all necessary and advanced techniques in order to evaluate, collect and document all relevant evidence as well as write a findings review.

Students of CDFE training and certification commonly include information security officers and managers, cloud security managers and government and law enforcement professionals. The CDFE training modules include:
Investigative process
Digital and live acquisition and analysis tools
Live Acquisitions
Windows, Linux, Mac and mobile forensics
Specialized Artifact Recovery
Electronic discovery and ESI
Incident Handling
The training course also includes labs that cover all aspects of a cybercrime investigation such as device and memory acquisition, investigating the acquired evidence, finding clues, constructing the case events and incident response.
Upon completion of the training course, students will be able to establish industry acceptable digital forensics standards, learn all of the industry tools, discover electronic evidence and effectively investigate incidents.
8. Certified Forensic Computer Examiner (CFCE) certification

Certified Forensic Computer Examiner (CFCE) training and certification is provided by the International Association of Computer Investigative Specialists (IACIS). The certification program is designed to teach and test students from IT, cybersecurity and law enforcement fields on different areas of digital forensics. By obtaining this credential, individuals will prove their knowledge and skills to conduct a digital forensics investigation.

The CFCE program helps candidates prepare for CFCE certification and is not only quite rigorous but also quite unique. It consists of two phases: the peer review phase and the certification phase. The peer review phase lasts 30 days, during which time candidates, along with their mentor, solve four scenarios and document their findings.

The certification phase comes after the first phase is completed and consists of 30 days to finish both a practical exam and a knowledge-based objective exam. Upon completion, the candidates will be awarded CFCE certification.

Topics covered in the CFCE program include:
Pre-examination procedures
Computer fundamentals
File systems
Data recovery
Windows artifacts
Presentation of findings
CFCE is one of the most widely recognized vendor neutral certifications in digital forensics. It has existed for many years now—and many forensics professionals, especially those who work in law enforcement, consider it a credential of high value.
Conclusion

Many digital forensics and cybercrime investigation courses are available online. But when embarking on a new learning journey, whether to advance your skills in these fields or to start your career, choosing the proper learning materials—from courses and training to certification— is very important.

You've now seen an overview of the most well-respected and highly-attended online courses and certification programs designed to propel your career as a cybercrime investigator. While the field of digital forensics doesn't rely as heavily on certifications as some of the other information security fields do, courses and certifications are always a good way to test and confirm your level of knowledge and range of skills.

Sign up for our newsletter today!
Get the best cybersec research, news, tools,
and interviews with industry leaders