A few days ago we happily announced the immediate release of our Risk Rules API + the integration with Tines, the popular platform designed to help security and ops teams automate manual workloads.
Thanks to this integration, you'll be able to inspect any immediate cybersecurity risks from our Risk Rules engine, and orchestrate risk and vulnerability data, with real-time notification platforms. Let's see some of its benefits, and how it works.
Immediate benefits
The main benefits of this integration include the ability to collect individual risk rules across your Attack Surface Intelligence environment. In the example presented in the Tines Story Library, not only can you collect the risk rules, you can also enrich them with vulnerability data from Recorded Future (access to the Vulnerability Intelligence Module is required), then send a Slack message to triage the risks and, in turn, begin to resolve them by creating Jira tickets.
How does it work?
The Tines Integration with Recorded Future Attack Surface Intelligence provides incredible flexibility to fit into your workflows. You can start by exploring the "Fetch rule results from Recorded Future Attack Surface Intelligence & open Jira tickets" story described above, then reconfigure it to match your company's unique workflows.
Story Example: Fetch rule results from Recorded Future Attack Surface Intelligence & open Jira tickets
Go to the Tines Story Library
Click "Import to Tenant"
Configure the Recorded Future Attack Surface Intelligence and Vulnerability Intelligence actions with your Recorded Future Attack Surface Intelligence API Keys
Add the credentials: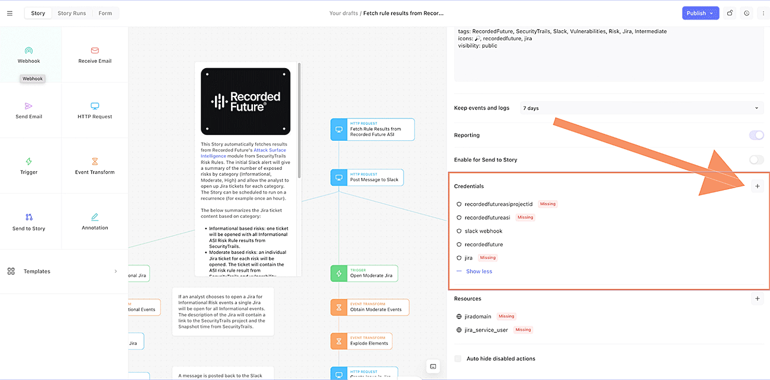 Update the Jira Components: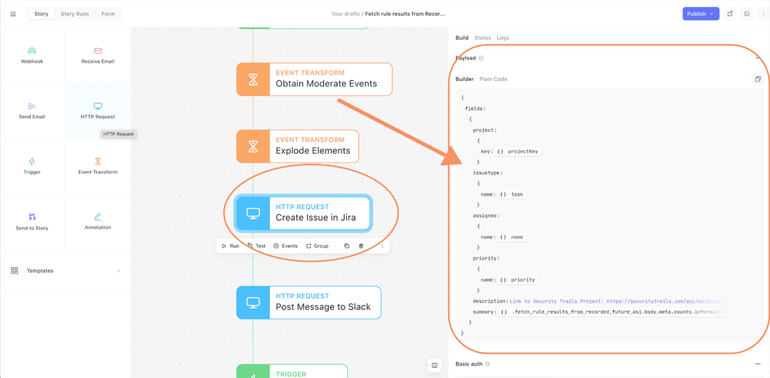 Either configure the credentials and settings for Slack and Jira or adjust those steps to the corresponding technologies in your environment.
Run the story.
Expecting more? That's it. If you want to keep playing, you can also do it with the ServiceNow story.
Start adding this powerful new integration to your security arsenal, receive critical data on all risks, and pivot between quick notifications so you can prioritize and resolve accordingly.
Sign up for our newsletter today!
Get the best cybersec research, news, tools,
and interviews with industry leaders