Where You'll Find Us: An Overview of SecurityTrails Integrations
Reading time: 5 minutes
Last week, we were excited to share the news about our latest SecurityTrails integration: the YETI Analytics plugin.
Now it's time to recap all the SecurityTrails integrations and tools currently using our intelligence platform.
Ready for any programming language + API wrappers

Since the beginning, we've always thought that the security platform we wanted to build had to have a solid and flexible API, so it could be integrated with any programming language or applications in use.

Our security API has already been integrated into several apps, plugins and security tools.

The API documentation is fully updated so you can access full examples for JavaScript, Node, Perl, Python, PHP, Swift and many other languages.

In addition to these examples, bound to specific programming languages by using the HTTP clients of each language, we also offer a list of contributed popular API wrappers and software integrations to make your life even easier.

The timeline of the launches of API wrappers and integrations: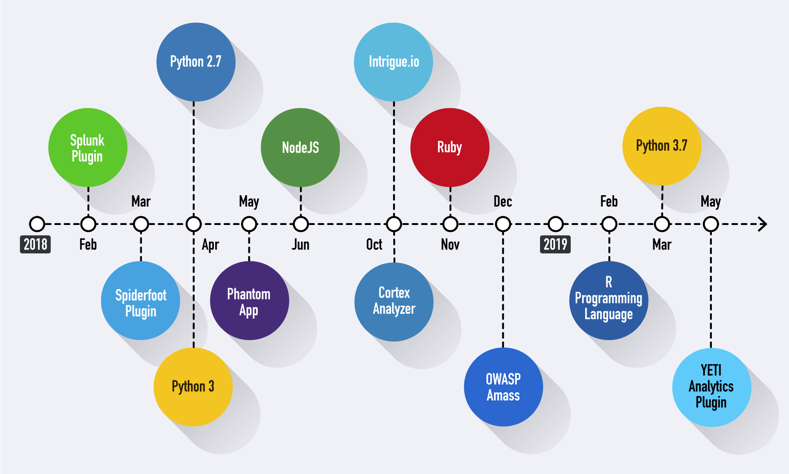 Overview of the wrappers written for the SecurityTrails API so far
A list of SecurityTrails integrations to date
Are you a developer working on infosec tools?

Here at SecurityTrails we offer free API accounts and credits for infosec researchers and developers who want to integrate our powerful API.

So now's your chance to get your head in the game. Join a league of your wisest peers—boost your infosec tools with our intelligence platform for domain, DNS, IP addresses, SSL certificates and port scanning solutions.
---
Request your free API account today, or book a SurfaceBrowser™ demo with our sales team today to learn how you can boost your threat intelligence and passive DNS toolkit.

Sign up for our newsletter today!
Get the best cybersec research, news, tools,
and interviews with industry leaders