Intelligence collection about your competitors using SecurityTrails, featured by Syed Balkhi
Reading time: 2 minutes
SecurityTrails can be used to discover the future plans of your competitors. See how.
In previous posts, we've always highlighted the way SecurityTrails can be used as an extremely useful tool to discover security issues, recover lost DNS records, explore subdomains, or even apply for [bug bounty programs][bounty].
Well… today we have some exciting news folks! This time it's about how SecurityTrails can be utilized as a domain information gathering tool to discover the future plans of your competitors.
Syed Balkhi, an award-winning entrepreneur, held a talk a few weeks ago at T&C marketing conference, where he talked about SecurityTrails at two different events: Traffic and Conversion summit, as well as Social Media Marketing World.
Balkhi explained the ways entrepreneurs, marketers, and all general public can use SecurityTrails to:
Gather information about your competitors.
Find historical WHOIS data that can be used for buying domains.
Find opportunities to create strategic partnerships.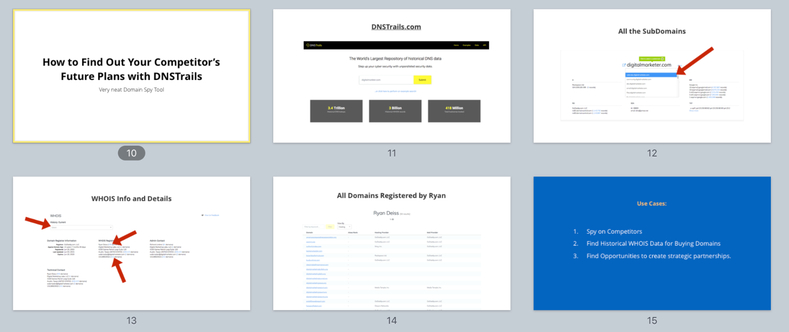 At this marketing conference, Balkhi highlighted the SecurityTrails tool in order to explain how it can be used to find competitor data.
This data can be pretty useful to anticipate competitors actions or to see where they are heading to in terms of business development or technology they use.
From a marketing point of view, it also can be utilized to get valuable domain contact information so you can buy the site if you find it interesting enough. Or, also to find possible partnerships when you discover high potential in certain projects or domain names.
Alternatively, SecurityTrails can be used just to get valuable information about your competitors, keeping an eye on them and their DNS, Domains, and IP's, which can contain very interesting information.
So, now you know SecurityTrails can be used as an extraordinary good security toolkit, but also as a marketing tool to be one step forward to your competitors. Start using SecurityTrails today, or sign up for a free API account at SecurityTrails.

Sign up for our newsletter today!
Get the best cybersec research, news, tools,
and interviews with industry leaders