Introducing ASI: The Next Level in Attack Surface Intelligence
Reading time: 2 minutes

After months of hard work, we're excited to announce the immediate availability of our Attack Surface Intelligence tool's latest version.
Attack Surface Intelligence is your best ally for exploring the Internet surface area of your organization, giving you visibility over your company's network, digital assets, and applications in a single place. Gaining visibility allows you to see the unknown—and take decisive actions to reduce the risks you face.
What benefits will you get from ASI?
Explore your digital assets

You'll be able to spotlight all of the common hostnames related to your target. But it doesn't stop there: you can also bring up all possibly forgotten domain data, such as that related to apps, services, vpn-gateways, and more.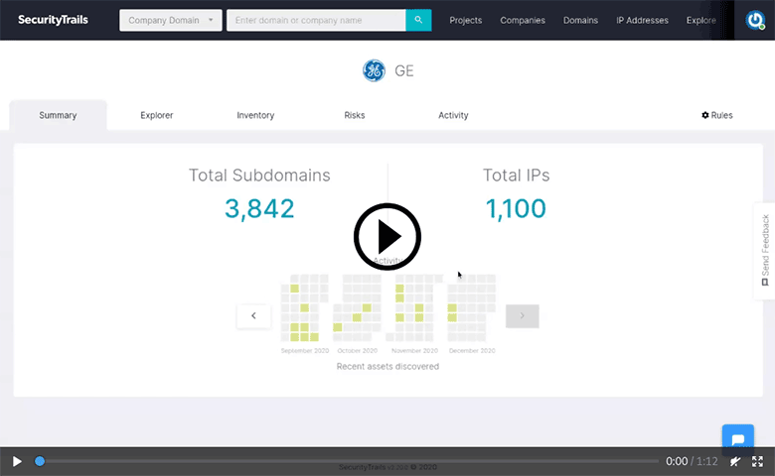 Manage your inventory

With ASI you'll have a unified view of all your discovered infrastructure data while staying advised on possible security issues, including:
IP's pointing local
Remote access points with open ports
VPN endpoints which can be exploited if vulnerable
SSL certificates and their expiration status
Related soon-to-be expired apex domains
Unveil possible risks

Get a security-wise perspective of your online infrastructure and take action to stop any security risks, such as:
Open database ports
Self-signed certificates which could indicate a service misconfiguration
Staging or development subdomains that could mean that servers aren't properly protected, and could be compromised
Set custom alerts

Your infrastructure changes, and you need to be notified as it happens. Get proactive alerts and see any unwanted configurations or changes to your infrastructure ASAP.
Take control over your entire online infrastructure

Stay one step ahead of the bad guys and prevent attack by gaining a new level of awareness over your attack surface with ASI.