New feature: IP history by value
Reading time: 2 minutes
Our goal here at SecurityTrails is to make the task of finding and ordering historical domain and IP information easier for you, so we work on building tools to run your investigations and research faster and more effective than ever.
In the old days there wasn't almost any way a normal person could get so much historical information regarding hostnames and IP addresses on the internet.
If you ever wanted to know how many days example.com spent hosted on certain IP address, you needed to start developing your own monitoring script and search for daily changes, also needed to mix data using 3rd party tools, and at the end of the day you would be able to monitor one domain, for only one specific domain or IP address.
At DNSTrails we make your life easier, that's why we've developed a new feature called IP history by Value.
Now you can track down any IP domain and IP address, and order it by Value. What does it mean? Let's take a look with a practical example.
How can I test the DNS records by value feature?
Start browsing DNSTrails website.
Search for any domain name, for example: microsoft.com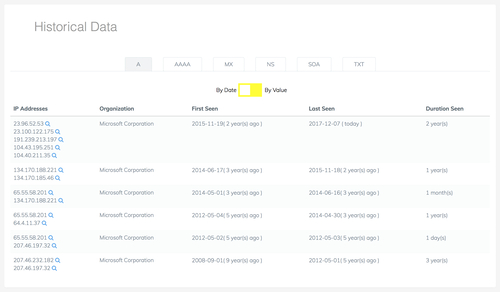 Scroll down to the "Historical Data" block.
DNS historical data will be orderd By Date by default, as you see below: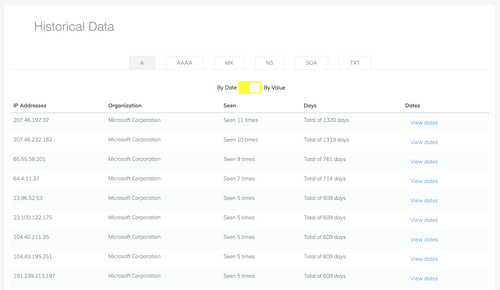 Now let's change the way you can see the historical records, click By Value.
You will notice the Historical Data shows the information is a little bit different, now showing how many times was seen on certain IP addresses, and also the total numbers of days a DNS record was hosted in that exact IP address.
If you also click on the 'View Dates' link at your right, you will get the exact dates where that Address type DNS record was created and terminated for that specific IP address.
---
Try DNSTrails and start testing our awesome DNS historical data, test it by Date or switch to Show data By Value to match your needs, or contact us for API access.

Sign up for our newsletter today!
Get the best cybersec research, news, tools,
and interviews with industry leaders