June Product Updates: New Provider Dossier, ASI Free, and Unified Product Experience
Reading time: 2 minutes

A few weeks have passed since our last product update, and for the month of June we're excited to announce several new items for Attack Surface Intelligence™ v2, SurfaceBrowser™ and our free public application.
Provider Dossier
SurfaceBrowser™ now includes a new provider dossier feature that enables you to get a quick overview of the organization's hosting-related data—such as company type, description, address, and acquisitions over time, as shown in the following screenshot: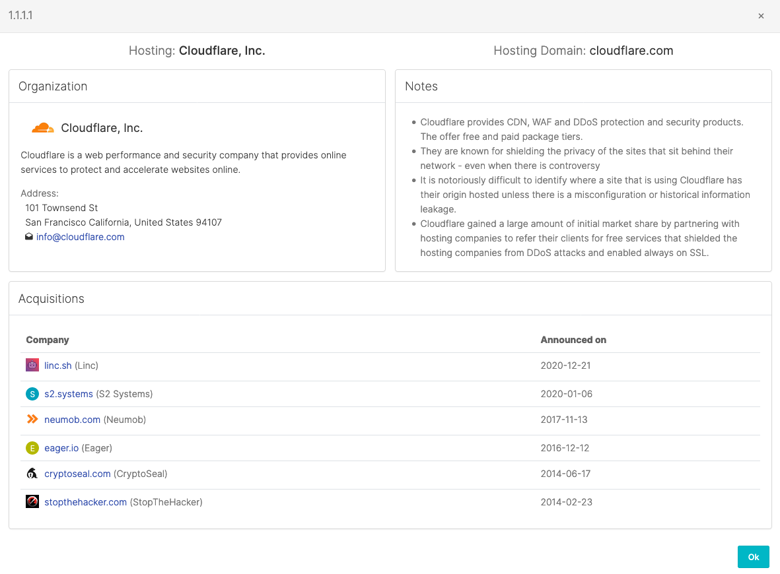 New free ASI version
Over the past few months, our engineers and product team have been working hard to release a free version of our popular Attack Surface Intelligence v2 solution. Now, ASI Free enables you to check your organization's internet-facing infrastructure instantly by providing exposed ports, public assets, detection of private IPs/hosts pointing local, and more!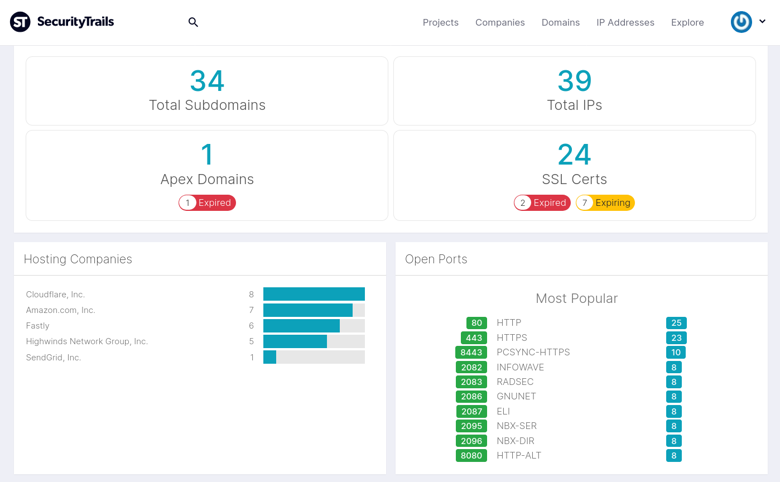 Unified product experience
SurfaceBrowser™ as well as our public application have received new UI updates including a fresh new sidebar, light and dark theme, and layouts and buttons with new rounded borders. These and future product design updates share the common goal of unifying the SecurityTrails product experience.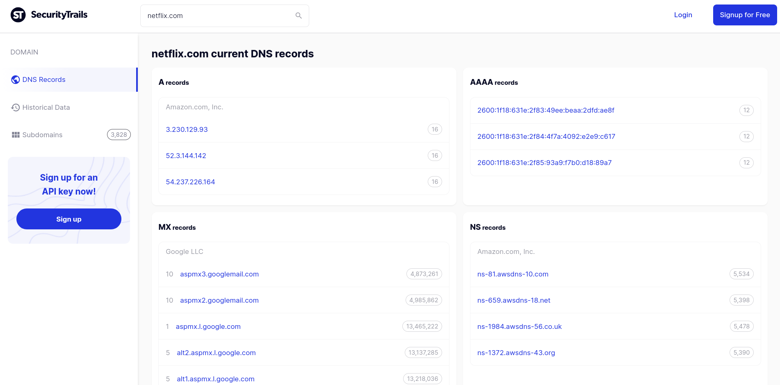 Other notable product updates include:
[SurfaceBrowser™] Removed the 10k limit for associated domains in the SurfaceBrowser™ sidebar and also on /app/sb/domain/[domain]/associated
[Attack Surface Intelligence™] The Explore page can now collapse IPs. More can be shown by clicking the +n.
[Attack Surface Intelligence™] Users can now submit hostnames using the new endpoint
[Attack Surface Intelligence™] Downloads added to ASI sections for SSL (/inventory/ssl-certificates) and Apex domains (/inventory/apex-domains)
Connect with us on Twitter and let us know what you think about these new features. Stay tuned for further updates!

Sign up for our newsletter today!
Get the best cybersec research, news, tools,
and interviews with industry leaders