Monitoring Your Digital Assets for Compliance
Reading time: 6 minutes

Following the trends set forth by our post-pandemic world, organizations continue to accelerate digitalization and reliance on technology to improve decision making while increasing the efficiency of their communications—all in their efforts to simply optimize business operations. Additionally, the rise in popularity of remote work has enhanced workforce flexibility and satisfaction as well as business continuity. But nothing great can come without risk.
As organizations' IT infrastructures grow to accommodate all of these advancements, digital assets and resources continue to expand too, and not often flowing neatly into easily visible and monitored areas. Furthermore, the growth of cyber threats aimed at those digital assets make fighting various types of cybercrime a priority for every organization.
The compliance side of the digital transformation coin

As cybersecurity threats continue to grow, so do data loss prevention trends. This phenomenon is led by government-imposed regulations such as GDPR, HIPAA, PCI DSS, and the growing myriad of new security policies imposed by various agencies for the handling of sensitive assets.

The cost associated with lacking an efficient and effective compliance program is growing too. Along with the reputational damage organizations can suffer, studies have shown that organizations can lose an average of $4 million in revenue due to a single non-compliance event.

In order to properly adhere to these regulations, organizations need to understand the full scope of their IT infrastructure, which includes knowing what assets they have, where they're located and who is responsible for them. And with today's complex IT infrastructure that includes both on-prem and cloud environments as well as forgotten and shadow infrastructures, this comes as a challenge.

The more assets an organization has, the harder it is to gain a full view of them. Managing numerous assets makes spotting security misconfigurations or policy violations among them that much more difficult.

Persistent monitoring of their infrastructure, however, can provide real-time visibility into an organization's ever-changing digital assets, allowing them to identify any compliance gaps.

And rather than relying upon various types of disparate tooling to achieve this—when having to identify, inventory, classify and monitor digital assets can only add to an already complex environment—a single platform to provide that kind of unified attack surface monitoring process arrives as a solution.
Leading your compliance efforts with ASI

Our leading platform Attack Surface Intelligence (ASI) provides organizations with much-needed attack surface monitoring and a comprehensive understanding of all their digital assets as well as their location, ownership, services, and the technologies running on them, all to keep security teams aware of any potential security risks disrupting regulatory compliance.

How can ASI guide your compliance efforts?
Know the location of your every asset

A large number of organizations employ both an incomplete asset discovery process and an obsolete asset inventory. And like we always say: you can't protect what you can't see. A forgotten or unknown asset is impossible to secure, offering a sure path to a security event, regulatory penalties and fines.

With Attack Surface Intelligence, you'll be able to gain a complete view across your external infrastructure, allowing you to improve your security posture and lead your compliance program.

ASI provides you with a single source of truth regarding the location of each of your internet-connected assets, and reveals any new changes that have been made within your infrastructure, including when and where any new asset is discovered. This way, any shadow or forgotten infrastructure—easy entry points for malicious actors, and easy risks of failure to comply with government and industry regulations—is immediately discovered by ASI.
Detect immediate risks and out-of-policy assets

Besides showing the state and location of your digital assets, ASI can also inform you of any risks they present. Our leading ASM platform provides persistent monitoring as well, keeping you aware of your security posture at all times. This level of vigilance allows you to be proactive, addressing any security issues and policy violations in a timely and efficient manner, well before they turn into disruptive data breaches and regulatory penalties.

Detecting immediate risks in your infrastructure gives you the power to know which assets your attention should be focused on first. Security risks ASI can detect include:
Open ports on databases that may potentially leak sensitive information to the public internet, and that may not have ACLs in place to stop data exfiltration
Self-signed certificates left exposed on public hostnames that can give malicious actors insights into sensitive internal servers, development servers or servers still being set up
Development or staging subdomains that should never be open to the public internet due to their risk of leaking sensitive information, causing compliance and legal issues
Furthermore, there are regulations that may dictate the removal of certain software, such as removing Kaspersky from USA government computers, or pulling Huawei-associated technologies off a network. ASI can provide you with the reassurance of knowing whether you have any software that is out of policy, which is especially useful for organizations with franchisees or other federated structures.
Streamline how you see digital assets

To better plan how to optimize, remove or secure assets that may lead to a failure to comply with regulations, having a unified view of your entire infrastructure and internet-facing assets (and their risks) through a single easy-to-use interface is crucial. Attack Surface Intelligence allows you to visualize and organize digital assets with near-real-time visibility. You can get all information related to your apex domain: subdomains, associated domains, open ports, SSL certificates and more.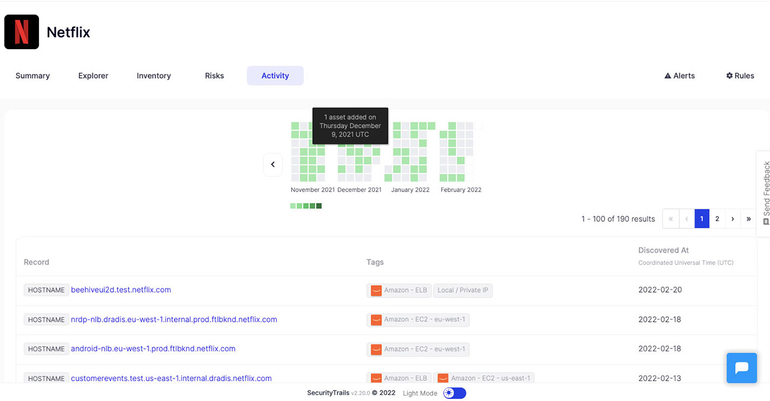 With an included chronological activity heatmap, you'll be informed of how many and which assets have been added in a single day, for the easy spotting of usage patterns that can point to security issues found in your organization's various automated processes.
Track third-party compliance with ASI

Third-party vendors have been one of the main causes of data breaches for many years now. And it comes at no surprise—with organizations struggling to manage their own complex environments while maintaining compliance, adding the management of security and regulatory compliance of third-party vendors becomes a major undertaking, an almost impossible mission to do effectively.

Statistics support this: A 2021 survey showed that 48% of organizations find it challenging to track third-party compliance. But it doesn't have to be.

With ASI, you can easily create projects to track apex domains of each of your third-party vendors—contractors, suppliers, partners, cloud providers and others—giving you a view into their external infrastructure. You'll be able to determine if their assets are compliant or out of policy, or with any major misconfigurations.
Better decision-making

Compliance should never be merely checking a box against a list of practices you should have in place; it should be focused on preventing and mitigating risk. You can be proactive about your cybersecurity posture and your compliance status with ASI. Automated analysis allows you to identify all of your digital assets, including genuine but poorly configured or secured digital assets, and ASI will also spotlight any security issues, providing you with your entire digital risk profile, so you can prioritize and make the right call when it comes to securing your infrastructure and maintaining compliance.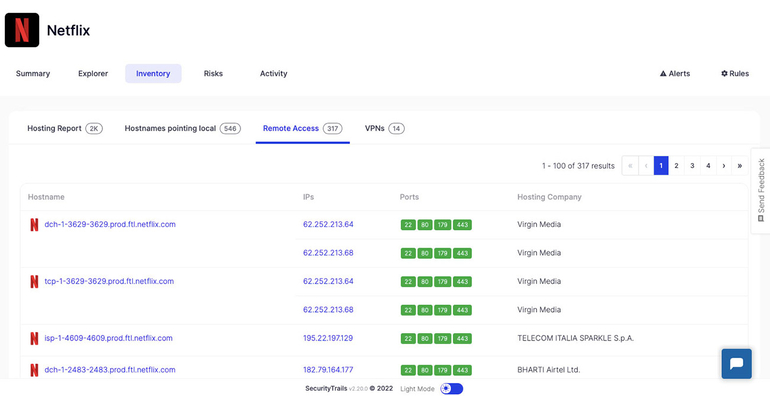 Summary

Effective compliance risk management requires a multitude of approaches. To achieve it, your organization is tasked with persistent monitoring for any digital assets with security risks and misconfigurations and deploying timely corrective actions to mitigate these issues.

Attack Surface Intelligence provides a single pane-of-glass view into your internet-facing infrastructure and allows you to monitor your attack surface for any security risks with a high level of potential for non-compliance, and take decisive action to mitigate those risks.

Reduce the potential of non-compliance penalties by having a complete understanding of your digital risk profile.

Sign up for our newsletter today!
Get the best cybersec research, news, tools,
and interviews with industry leaders