New Features: Redesigned Console and API Usage Log
Reading time: 2 minutes
We at SecurityTrails are devoted to always improving and making your experience as smooth and user-friendly as possible. New and improved API Console does not only have a new appearance, but it is now accompanied with new feature – API Usage Log.
To access SecurityTrails API you can create new account from the pricing page or upgrade your membership directly from the console.
Appearance

First change you may notice is the color scheme of the Console.

We have swapped out the black Menu with clean white, for a more uniform and easier-to-navigate dashboard.

The fixed-width layout has been changed to full-width, so now the dashboard with important information will take bigger portion of the screen.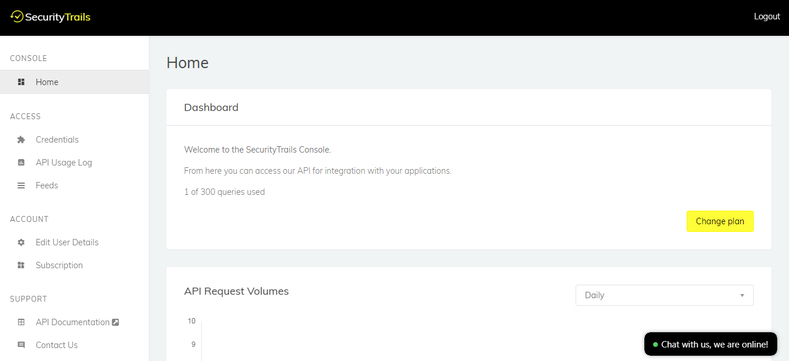 Feeds

In the Access section, besides Credentials, you will see two new features, Feeds and API Usage Log.

Feeds is a new feature in the Console, where you will be able to directly download lists of either all Domains, gTLDs or ccTLDs that you have subscribed to.

You will be able to view the entire domain count and size of the file. Additionally, there will also be number of new domains in the past 24h and the file size of the new ones only.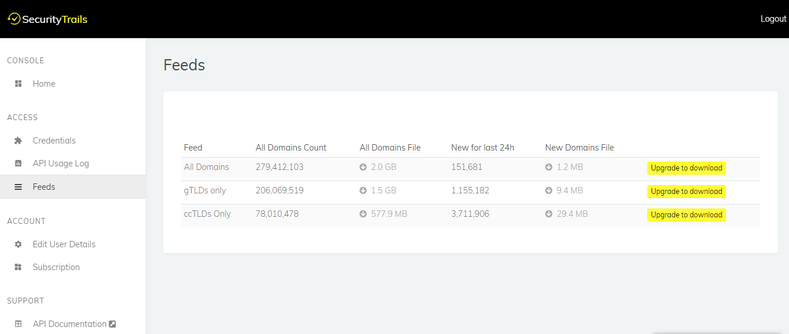 Download of the files requires paid plans. Check the pricing page here.
API Usage Log

For ability to follow your queries you made with SecurityTrails API day by day, we have created a new feature to add to the Console, API Usage Log.

It is a log viewer that will allow you to search by an endpoint and starting/ending date.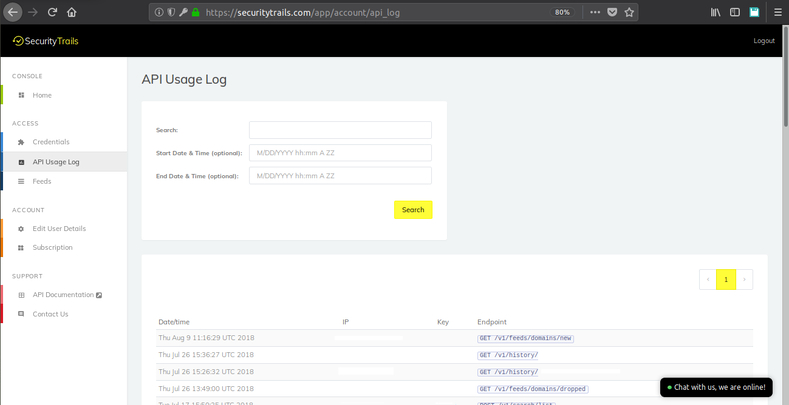 Also, there will be a list with the maximum of 100 pages that lists out your queries. It will show you the date of the query, from which IP address the query was made, API key used and the endpoint itself.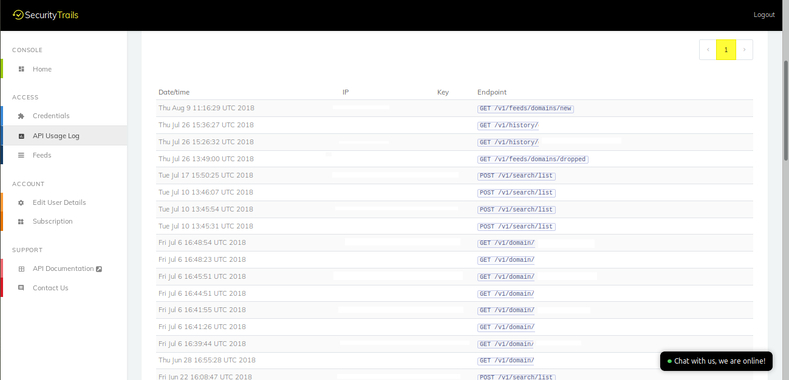 By using API Usage Log, you will not only be able to keep track of your queries, but also it will help you in debugging if needed. If there was a mistake yesterday when you made a request, but not today, you can easily see what you did yesterday that could possibly result in an error.
Going back and searching for a specific query, you will be able to see which filters you used and possibly see where the mistake was done, and why the results were not correct.
This log viewer will make your experience much easier and more organized, and we have made efforts to deliver the best service by creating one of a kind features.
We would love to hear your feedback regarding the new Console and features! Get in touch with us and get prepared for even more new features coming your way.

Sign up for our newsletter today!
Get the best cybersec research, news, tools,
and interviews with industry leaders