Launch of SecurityTrails domain and IP intelligence platform
Reading time: 3 minutes
With the launch of SecurityTrails.com, we are providing the same excellent data in an even easier to use and more eye-appealing web interface.
It's been some time since we designed our first version of the DNSTrails interface. It was a great way for us to show our data to a broad audience and it had all basic features. With the launch of SecurityTrails.com, we are providing the same excellent data in an even easier to use and more eye-appealing web interface.
While improving backend code is always important, and it is something we keep doing every day, UI design is important too, as it's at the root of a good user experience.
That's why today, we are excited to announce these improvements to our platform:
Our UX, Dev engineers and product managers have been working hard to bring solutions for most of our previous problems/bugs, and we are proud to let you know of the changes we've made to the new version.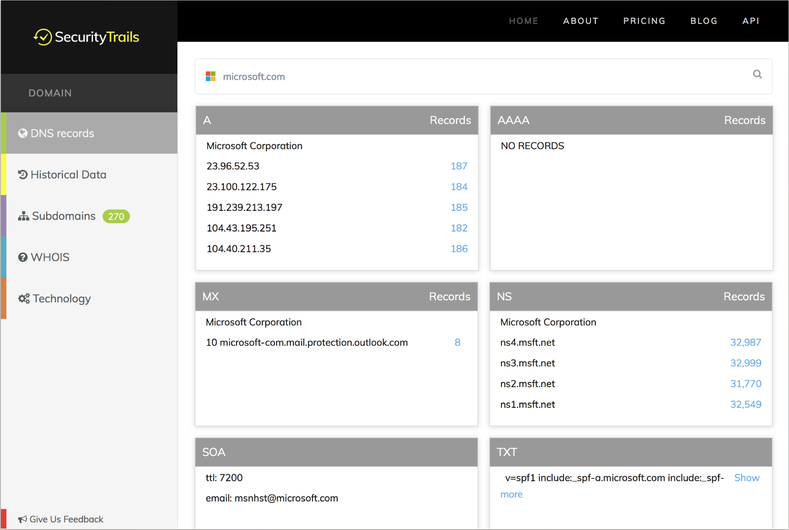 Clean interface: the best way to present information is through a clean interface with neatly organized blocks each displaying their own content. It's a fast way to split data from the DNS records you get on each query into easily ingestible chunks.
Faster: our new interface is way faster than the previous one. We worked hard to make our app 2× faster while displaying the information. We believe you will notice the difference right away.
Sidebar: the new app will be using a fixed sidebar so you can easily find the desired information and jump between DNS Records, Historical Data, Subdomains, WHOIS, and Technology blocks. This is in contrast to the old interface where you had to scroll to see each block, making it sometimes a bit cumbersome to navigate to the parts you were interested in. The new sidebar color scheme will also make it easier to differentiate between the appropriate sections.
Timeline: historical WHOIS record page has been redesigned, so now you can quickly click on the registration dates from a timeline, making comparisons between them faster and easier than before.
Website favicon: each time you launch a query against a website, you will see their website favicon in the search field at the top.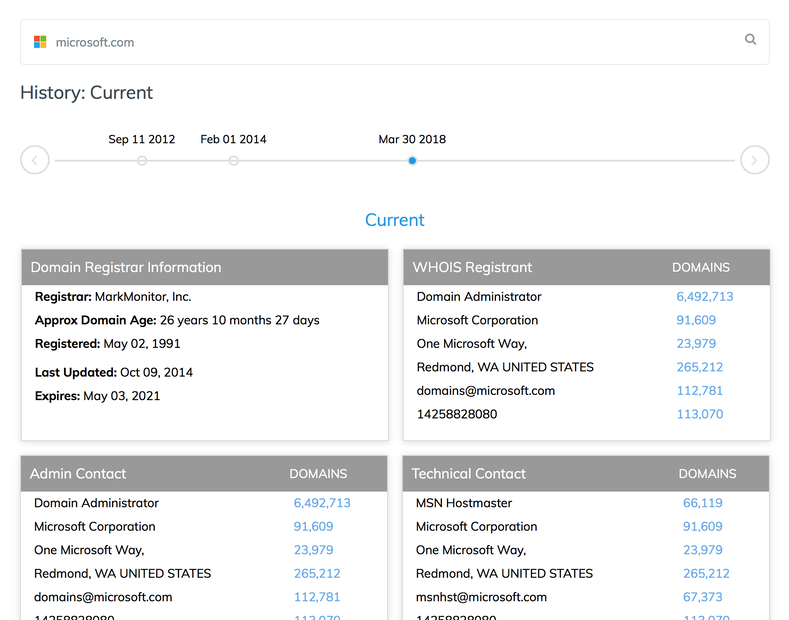 The last announcement we have for today is that DNSTrails will be working on its own domain until next week, where it will be fully redirected to https://www.securitytrails.com. But not to worry: you will be able to launch the same free DNS, IP, and WHOIS queries from the main SecurityTrails page.
Earlier, we've written blog posts on how to search SecurityTrails' Intelligent DNS historical database to recover lost DNS settings or to gain intelligence on your competitors.
Our dev team is also working on improving the WHOIS data block, making it easier for you to recognize private WHOIS records, as they are going to be marked in red (red dots) so you can easily differentiate normal WHOIS records from private ones.
If you have any UX suggestions to make your life easier while working with SecurityTrails, do let us know: we are always here to hear your suggestions.
---
Do you work in the public or private security sector? Start using SecurityTrails for free, and discover the unlimited power of our security toolkit to unveil useful information to protect websites, agencies, or even locate bad guys.
If you also have development skills, sign up for a free API tier and start integrating our full Domain, DNS, and IP Security powers into your own apps.

Sign up for our newsletter today!
Get the best cybersec research, news, tools,
and interviews with industry leaders