October Product Updates: Downloads, Host Page Improvement, Egress traffic, and more.
Reading time: 2 minutes

We are thrilled to announce new features for SurfaceBrowser™, our SecurityTrails API™, and Console.
With SurfaceBrowser™ you now have the ability to download data from more pages, and can benefit from our Host Page improvements, Egress Activity, and much more.
More data downloads

With this latest release, we've enabled you to download data from the following pages:
WHOIS
Mergers & Acquisitions
Activity
Sub organizations
These downloads enable you to locally analyze, filter and further process the data with your own toolkit. For example, you can use the activity data to scan all newly seen hostnames.
Video could not be loaded at this time.
Egress Activity

We've also reintroduced the Egress Activity option, which helps you detect outgoing traffic from any specific IP or subnet.

Video could not be loaded at this time.
Host Page: new data about SSL and HTTPS crawls

The host page overview now has a new SSL Crawl summary that incorporates important details about your SSL certificates, such as:
Issuer (organization, city, state, country, etc.)
Fingerprint (SHA256, self-signed verification, and validity date)
Subject (organization, state, locality, email, country, and common name)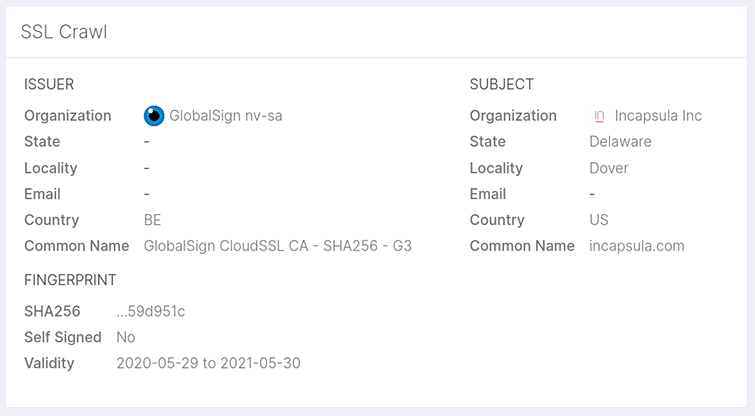 And when it comes to HTTPS crawl data, you can visualize information including title, copyright notes, server type, meta generator, content type, MD5 fingerprint, and redirect chains detected on the website. Take a look at the following screenshot:

Console and API updates

Along with updates to SurfaceBrowser™, we've also enhanced the Console's usability by adding a search field to the navigation bar. This feature helps our customers access data in an instant.

The SecurityTrails API™ has been updated as well, with two new improvements:
"if-none-match" header support has been added to the feed endpoints
Firehose and Feed endpoints no longer count towards the quota
Remember, you can keep track of every change to all our apps and products from our SecurityTrails Changelog.
---
Learn more about SurfaceBrowser™
Discover how we can help you maximize the visibility of all your digital assets

Sign up for our newsletter today!
Get the best cybersec research, news, tools,
and interviews with industry leaders