Pre-M&A Security Assessments: Importance of Asset and Risk Discovery
Reading time: 4 minutes

In 2021, reports show that global M&A volumes topped $5 trillion. It makes sense: organizations pursue mergers and acquisitions in order to stimulate growth, gain competitive advantage, increase market share through gaining or consolidating personnel, technology and intellectual property.
As part of their due diligence, a critical component of any mergers and acquisitions process, organizations assess potential business impacts and risks of the merger or acquisition, in financial, legal and regulatory areas. And while cybersecurity due diligence preceding an merger and acquisition process often comes as an afterthought, the consequences of lax security assessment can lead to increased risk of data breach, failure to comply with regulations, financial and reputational losses.
Importance of pre-M&A security assessment

While the importance of cybersecurity in mergers and acquisitions processes is widely recognized, innumerable high-level data breaches surrounding mergers and acquisitions are making it very clear that cybersecurity is frequently overlooked. Cybercriminals find the environment surrounding mergers and acquisitions alluring due to the number of companies and individuals involved—meaning that the potential for human error is heightened.

Additionally, combining the cyber risk of two different companies increases the risk for both, and can lead to oversights resulting in failure to comply with regulatory requirements.

The main areas for pre-mergers and acquisitions security assessment include:
Determining the target's compliance to support regulatory due diligence
The amount of digital assets and data they possess
How those assets are protected
The target's potential attack surface and the nature of vulnerabilities it may have
While the discovery of cyber threats and even actual data breaches can harm an merger and acquisition deal, they don't often lead to outright termination. More commonly, they cause delays and add costs, usually due to compliance violations. Yet that can affect the entire outcome of the deal, including the value the acquirer places on the target company.
To avoid these consequences, diligence during the pre-mergers and acquisitions process is crucial. But this in itself presents a few challenges.
The current state of pre-mergers and acquisitions security assessments involves a lack of repeatable ways to measure internet-facing assets, incomplete asset lists and no information regarding services running on assets that potentially hold risks or vulnerabilities, or are out of policy.
Near-real-time pre-M&A security assessment

In order to appropriately address the main areas for cybersecurity due diligence preceding an merger and acquisition deal, near-real-time assessment of assets and risks is necessary.

A thorough understanding of assets can aid in guiding decisions as to which assets can be safely inherited and which technologies should be sunsetted in acquired companies. Furthermore, near-real-time inventory and assessment of risks of all assets further informs efforts toward regulation or policy compliance and the monitoring of vulnerable services.

Instantly uncovering the entire external infrastructure of a subsidiary, pinpointing potential risks, and having actionable data on total assets, assets with services that need to be sunsetted, and assets that are out of policy is easy—all with Attack Surface Intelligence (ASI).

ASI can aid in pre-mergers and acquisitions security assessment with:

Asset discovery

Depending on the size of the acquired company, mergers and acquisitions can be a messy process. This is especially true when it comes to asset discovery and understanding where assets are located, asset ownership and the services or technologies running on them.

With our automated asset analysis, ASI provides you with access to a centralized view into all discovered external infrastructure assets via the Inventory section, including information about potential security issues such as open remote access points, exposed VPN endpoints and more.

There's also a handy section in the Summary Tab that will show you all brands, subsidiaries and acquisitions of a target company, so you can further explore their supply chain and third-party risks.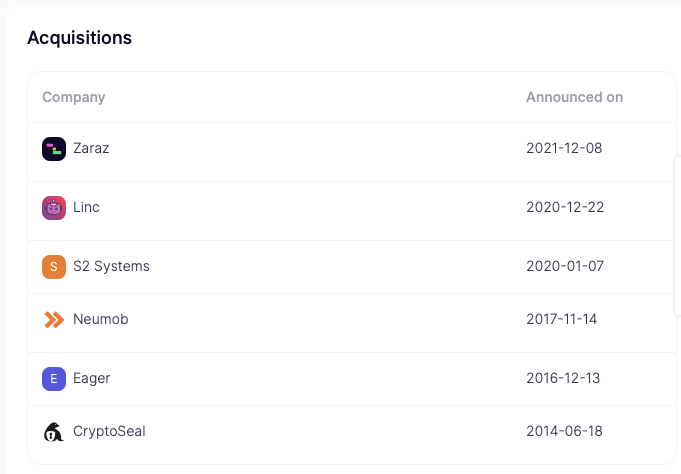 Identifying immediate risks
Catching risks before they become vulnerabilities and get inherited during an merger and acquisition is crucial for any security assessment. ASI allows you to easily identify and prioritize the risks present in a subsidiary's external infrastructure, such as databases with open ports, unsecured testing and staging environments, and other critical security risks.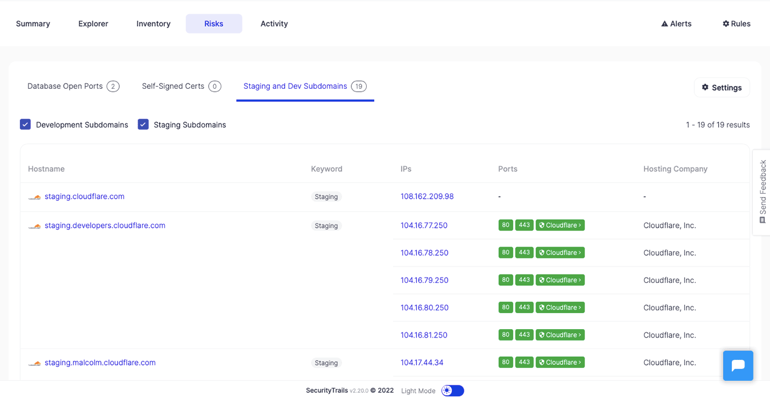 Taking appropriate action
Once you have all the cards on the table thanks to ASI, making the right decisions with facts and measurable data from all discovered assets and risks is easy. Ready near-real-time understanding of assets and risks can support business-level decisions during an merger and acquisition and are an important part of due diligence.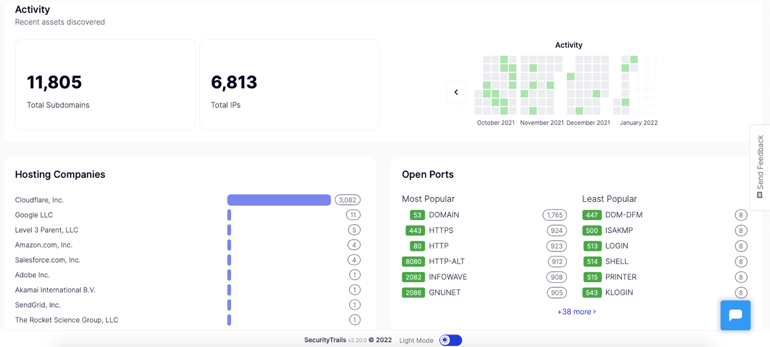 Summary

Cybercriminals find mergers and acquisitions particularly alluring due to a higher potential for error and larger attack surfaces. As mergers and acquisitions popularity continues to grow, and with cybersecurity assessment frequently one of the last things to be prioritized, organizations can easily fall victim to several types of cyberattacks.

Performing a pre-mergers and acquisitions security assessment is essential for identifying cybersecurity risks within the IT infrastructure. Such due diligence can help prevent bigger risks in the future, such as data and network breaches, among others.

Attack Surface Intelligence provides your organization with the right tools to perform your best due diligence during pre-mergers and acquisitions assessment, allowing you to catch any risks and vulnerabilities before they become yours.

Sign up for our newsletter today!
Get the best cybersec research, news, tools,
and interviews with industry leaders