Building and Nurturing Company Culture with a Remote Team
Reading time: 18 minutes
Remote work is on the rise. More and more companies are ditching the idea of a physical office in favor of a fully remote team, especially in cybersecurity and IT in general. But despite the many benefits of working from home and creating your own style of work-life balance, we sometimes forget about the various challenges it brings.
One of the biggest is creating and maintaining company culture when your team is scattered all over the world. It's not unusual for remote co-workers to have never met each other in person.
We've written about our own experience as a fully remote team and explored its advantages and disadvantages, but today we want to tackle a specific aspect of remote-first companies: building company culture. We talked to some of our team members to get their first-hand experience with the importance of nurturing company culture in a remote team and we'll share tips on how you can do the same.
Why is company culture important?

There isn't any one definition of company culture that holds true to each and every team, but it's often understood as something that goes beyond the individual — it's how your team functions as a whole. Company culture describes the experience of team members working for your company, how they understand their roles within the company's structure and, when positive, encourages the harmonious alignment of their needs and values with those of the company.

So why exactly is positive company culture so important?
1. Engagement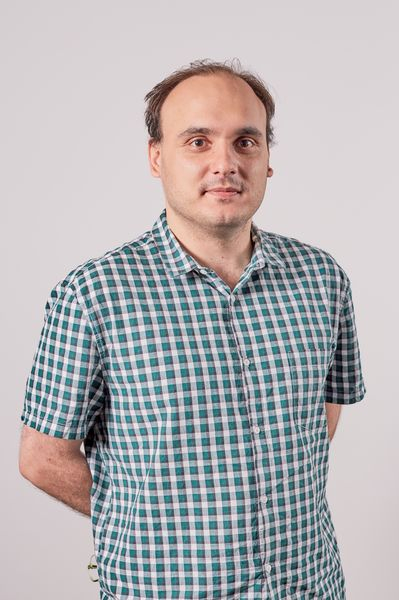 Matija Stefanovic, Engineer
The boost in discipline and vigor that stems from the feeling of belonging to the team is invaluable to me. Even though I am not physically next to other colleagues, the sense of a common goal provides the drive to progress and improve. — Matija Stefanovic, Engineer
Team members don't only want a steady income and added benefits, they need to work in a positive environment. They want a team that is open to collaborate and to feel like they can grow and advance in that space.
When you provide them with such an environment you will get engaged team members, those who will be not only be your biggest fans and advocates, but also your harshest critics, which will only bring you as a company more opportunities for growth and chances for improvement.
2. Team performance

When the sole focus of company goals is performance, it can easily swing the other way and do just the opposite. Respecting individuals' well-being and needs, such as having an unlimited vacation policy (the way Netflix does), flexible work hours and creating an environment where they feel their voice is heard will greatly advance their performance.

Company culture should empower its team members to perform their job thoughtfully, to understand what their impact is and feel recognized for their contributions. A number of studies show that a healthy company culture with a supportive internal structure drives innovation no matter what the industry.
3. Retention

When do you decide to leave a friend group or a community? When you no longer feel like a part of it.

It's not rare when we ask someone what keeps them at their job to hear that it's the people. Teams whose members feel connected and mutually supportive will not only enjoy more success but also more contentment, making them less likely to leave that company. This benefit is also tied to their performance: if they feel their work is valued and they're motivated to be high performers, there will be less room for high employee turnover.
4. Recruitment

More and more, the right cultural foundation is one of the things that job seekers are adding to their list of requirements.

When you have a clear set of goals and values that you promote on your team page, blog and job ads, it will help future team members know if they can expect the right cultural fit. This will help you recruit top talents in the field who will join your team smoothly and seamlessly.
5. Financial aspect

When team members are encouraged to deliver their best results and know they are appreciated and rewarded for it, the quality of the products and services your company offers will also be impacted in a positive way.

The best path for financial success in any industry is offering great products to your customers — and those great products aren't possible without motivated workers. Increasing the odds are companies that promote their company culture publicly, which leads to brand identity and customers wanting to interact with it. Take for example Uber and their low profits that resulted from a series of controversies surrounding their company culture. It's important not only for your team members, but also for your customers that you are a company that values its workers and takes pride in its core culture.
How to build company culture in a remote team

Companies with physical offices have it easier when it comes to building company culture; last-minute meetings are easier to schedule, team members can bond over lunch break, 'watercooler chats' about non-work related topics can take place spontaneously and help co-workers build trust in one another. Still, that doesn't mean you can't nurture positive team culture if your team members aren't physically together.

Here are some practical tips to help you establish company culture in your remote team and examples of how we managed to do just that:
Hire the right people

Hiring for cultural fit has been the main topic of many recruiters for some time now and it's for good reasons. Hiring people who recognize your core values — and who are likely to flourish in your work environment — makes it easier to encourage a company culture where everyone feels included. It's important for someone to fill job requirements, but where will it get you if they can't collaborate with the team and their values don't align with yours?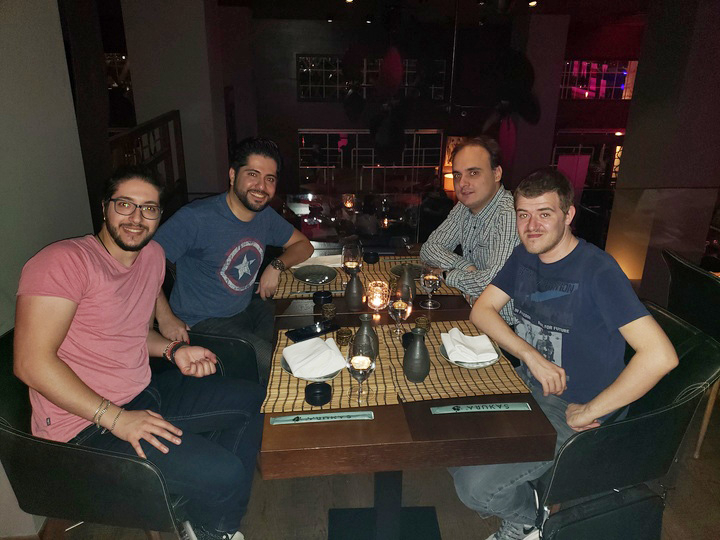 Team meetup
Having a remote company opens your doors to a larger hiring pool. So why not spend the extra time to find someone who believes in your vision, someone who will make the effort to create valuable bonds with their team members?
Here at SecurityTrails, we work hard to gather the best people possible, who love cyber intelligence data as much as we all do, but also who'll be happy to share with us the funniest memes they've found. This way we're sure to build a team of experts in the field who are also people who make our meetups truly enjoyable.
Take time to meet new hires

Once you've found the right people for your team, spend some time getting to know them and introduce them to the rest of the group. When you're in an office it's easy to gather everyone for a few minutes and introduce the new team member, but that doesn't mean you can't translate that to your remote company.

Whenever we have a new hire at SecurityTrails, the first thing we do is introduce them on our Slack channel, to let everyone know about their role and location and to give new team members an opportunity to share a few things about themselves. After that each of us will introduce ourselves to the new hire during our monthly meetings, to let them know what we work on and how we can help if they ever need us.

It's a good idea to encourage your team to interact one-on-one with new members, especially with those in different departments. This will give the new member a clearer picture of the overall company culture, more so than a single page on your website that outlines it.

You can even create a sheet with questions that every team member should answer, asking them about their favorite movies, which superpower they'd like to have, guilty pleasures, books they're currently reading, etc. In our own internal knowledge base, we keep an employee directory where each of us writes our own non-formal biography, to create a better sense of familiarity with our team members outside of our work personas.
Define each role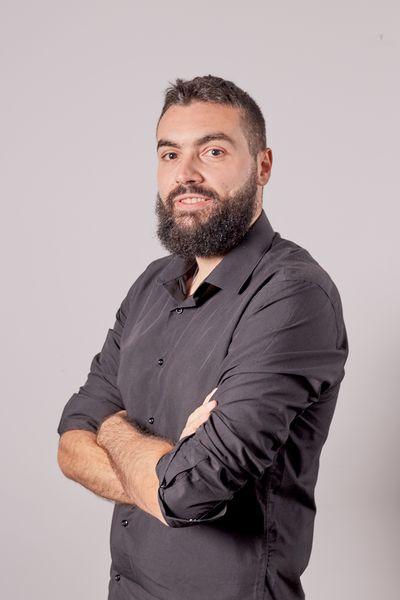 Misa Miletic, Support Engineer
The company culture at SecurityTrails helps us focus more on our work instead of procedural stuff. It makes our day-to-day tasks more streamlined while also allowing us to be flexible with our hours. — Misa Miletic, Support Engineer
For everyone to truly feel like a part of the team, they need to have well-defined roles and workflows.
Each department should document their procedures step-by-step, acknowledging each person involved. This will provide the team with more accountability; they'll see that as much as their step in the process depends on the person who comes before them, their own role and actions are important for the person who follows them in the process. A true team works together as a whole, and the best way to nurture that is to show them how much they depend on each other, and the importance of their working in sync.
For example, our content team has a spreadsheet where each completed blog post first goes through review by other writers, then goes to the proofreader and finally to management, who approves the final version before it goes live. Each step is marked in the spreadsheet and, individually and collectively, we know how important our roles are for the final outcome.
Team meetings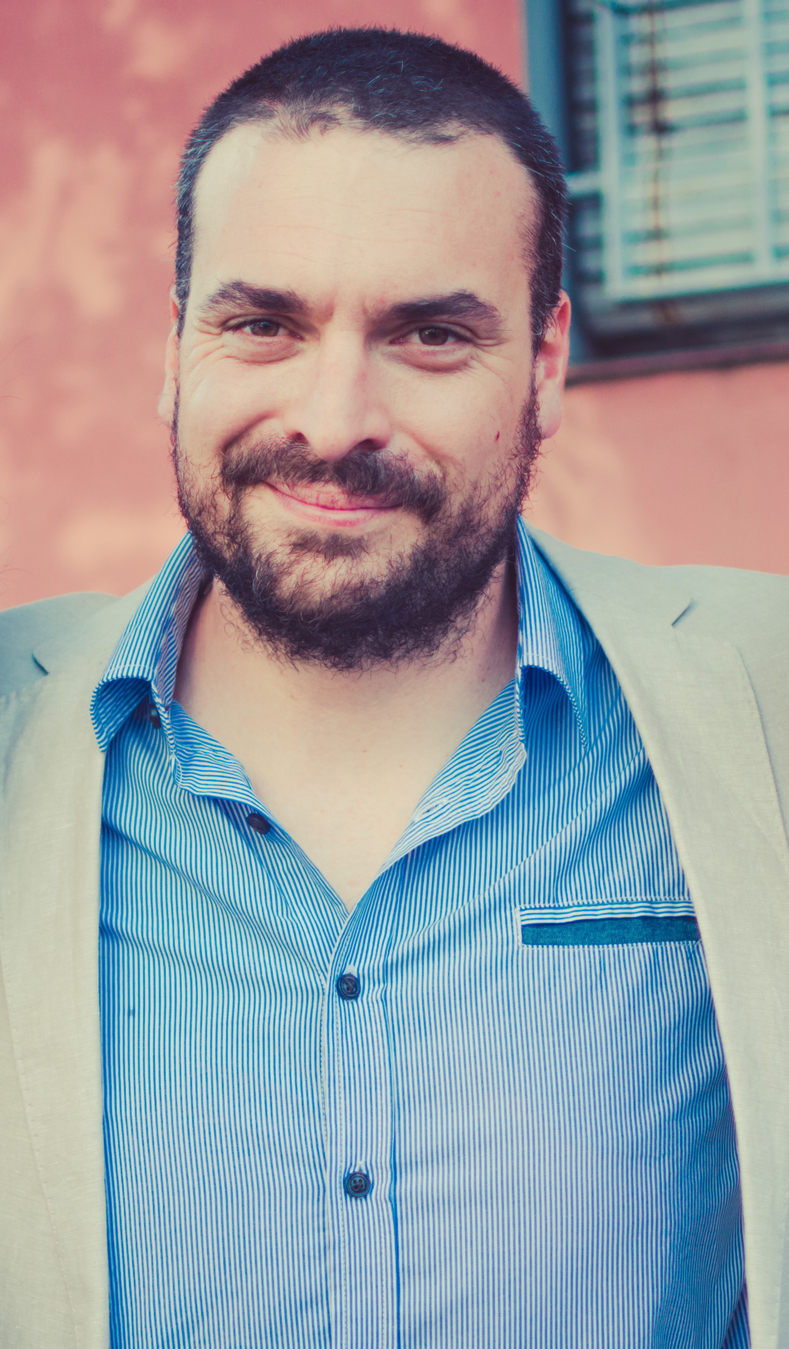 Esteban Borges,
Security Researcher
For me, company culture represents a combination of each person's values, and the communication that flows between all of us, plus how we work towards to achieve our own personal and company goals. The way we do things here, from our weekly meetings and monthly Town Hall Meetings, to Slack chats, jokes we share with our colleagues, etc., reflects how we feel about the whole of our core company values. — Esteban Borges, Security Researcher
Team meetings are important for any company, whether it's remote or not. It's up to you to figure out how often you need to have them but it's important to have them regularly.
The format of team meetings will depend on your team, their time zones and workflows. You may want to have a quick everyday meeting where everyone can report on their tasks, or they can be weekly or monthly with a designated date and time that doesn't change. You also have the option of not scheduling them, as some teams function best with meetings on demand. It all depends on what works for your team.
If you do have them, don't have too many — nobody wants to waste time being kept away from their tasks, during meetings where no important topics are discussed.
Team meetings are a chance for everyone to voice their opinions, worries or ideas, as well. They help create an open environment of support and feedback and are ideal for keeping everyone in the loop regarding the company's business side, such as important changes or relevant news.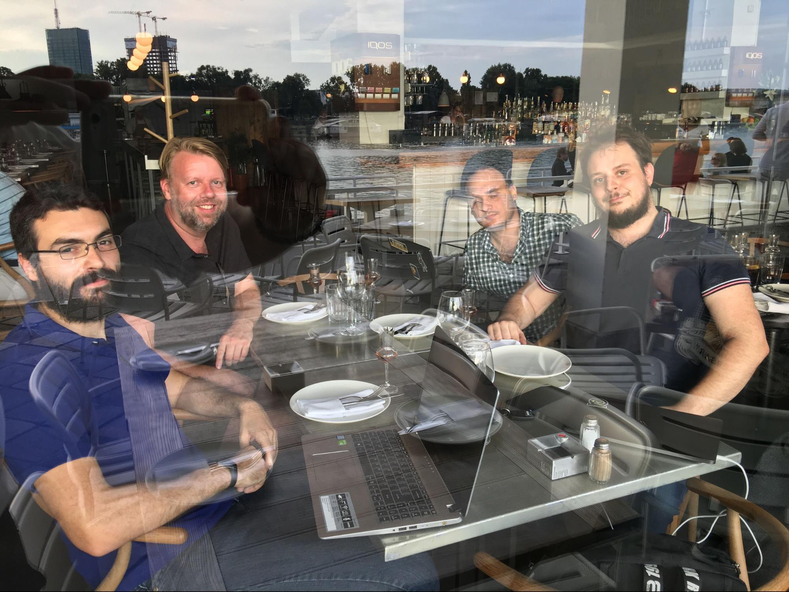 Team meetup · Belgrade · 7/2019
Give considerable thought to the structure of your meetings. We start our monthly town hall meetings with each of us, by department, sharing what we've been working on in the past month and what we have planned for the next, and we give shout-outs to our teammates on their success with projects or thank them for their help on our own tasks. The second part of the meeting we leave open for any non-work related topics. We share jokes, interesting things we've learned about or talk about new team meetups we have planned. This way we get to discuss important topics but also have some time for bonding.
Video conferencing

A great addition to team meetings is video conferencing. This will help 'put a face to the voice' and clear out any misunderstandings that may occur as people use body language to communicate. It will also make every meeting more personal, making people feel like they know their team members better from observing their expressions, body language and reactions.

We use video conferencing on our monthly meetings, especially when introducing a new member, but it's not something we do regularly for quick calls with our department or oneon-one. Balance is the key.
Communication

Communication is necessary for healthy relationships, whether in your private or work life. That's why you should have clearly established channels and tools you use for collaboration and communication and an understanding of the level of formality those channels might require. You also need everyone to know where they can report their off-days and vacation, how they document and communicate their work hours to the rest of the team and the like.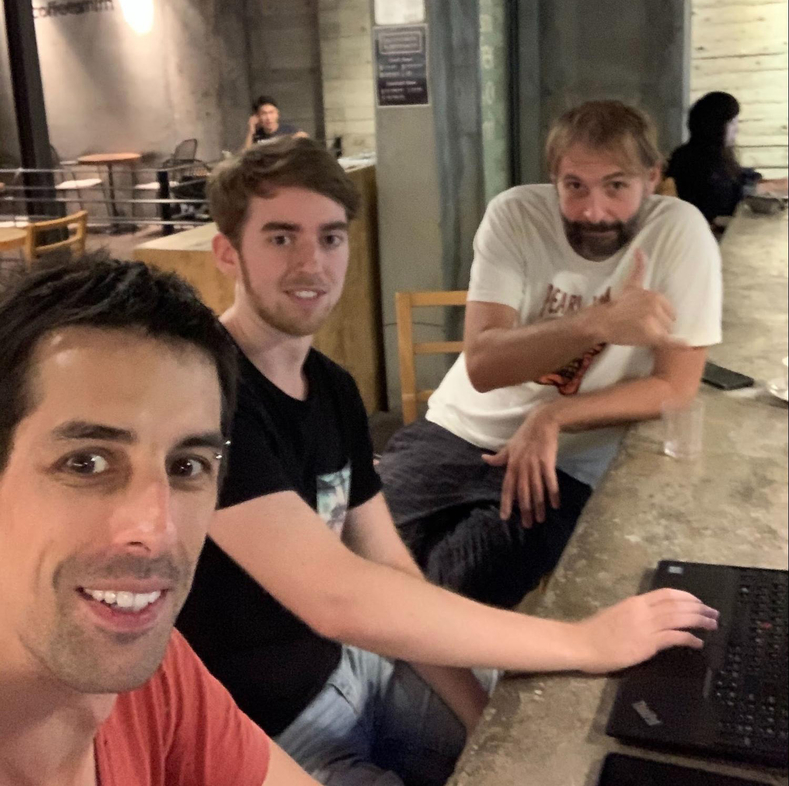 Team Meetup, Seoul, 2019
Your best bet is to put this all in writing for each department, along with general rules and guidelines for the entire company. Keep in mind that collaboration channels for different teams, such as marketing and engineering, may not be the same, so it's important to keep everyone in the loop on where they can get assistance and where they document their workflow.
If you use Slack for your everyday communication, create separate channels with descriptions about what is communicated where. You might have some for separate departments, one where everyone is free to report any bugs they've found, a general channel to share company-wide news and a channel inviting everyone to share the goals they've reached, which affords more familiarity with everyone's role and function.
Create your own watercooler chat

You may think that nothing can replace the 'real' watercooler chat where team members all gather to enjoy casual conversation, but you really can create a virtual one.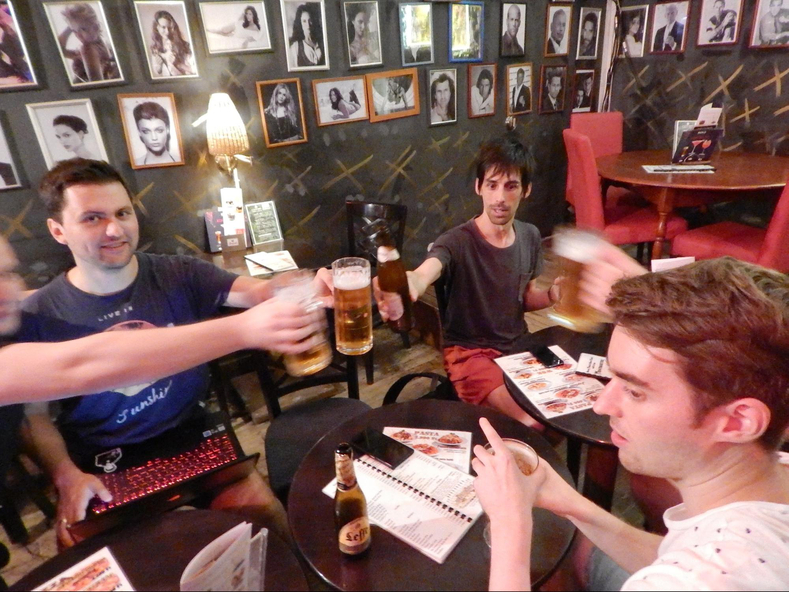 Team Meetup, Budapest, 2018
One classic method is to designate a channel on Slack, or whichever communication platform you use, as a place where people can share jokes, memes, funny articles and crazy stories about things that have happened to them. This will give the team a little break from their work, a way for them to relax and feel like they can chat with their co-workers on a fun, human and relatable level.
We have a "random" channel on Slack where we laugh at funny IT memes, discuss interesting github projects we've found, share breakthrough findings in cybersecurity, or even vent about the horrible weather in our country. This also gives us time to bond and learn more about each other.
Team retreats and meetups

While it's entirely possible for a fully remote company to function with team members who never meet face-to-face, meeting your co-workers in person can be invaluable.

Discovering new and fun locations, going to meals together or drinking a beer after hours can help build trust and forge deeper bonds among those on your team. Even when everyone is working, team members can enjoy instant help and suggestions from their co-workers, discuss current processes and propose new ideas.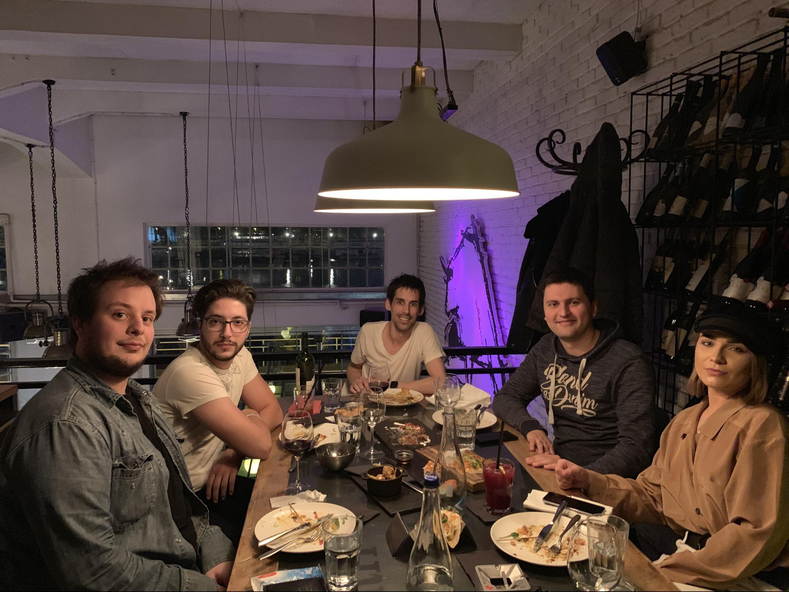 Team Meetup, Belgrade, 2019
At SecurityTrails, we genuinely love organizing meetups and retreats. As we have a larger team in Belgrade, our CTO Courtney Couch often travels there to spend time with the entire team, while they work together, share new findings and product ideas, visit restaurants and simply get to know each other. Also, different departments organize retreats, such as our product and marketing meetup in Las Vegas, engineering retreat in Budapest and the engineering retreat in Bali in November. For DEF CON and Black Hat, we always fly some of our team members to Las Vegas, not only to bond with each other, but also to immerse them in the entire infosec and cybersecurity community.
The frequency of team meetups and retreats is up to you, but having them as an annual tradition will create stronger relationships — and give everyone something to look forward to.
Practice what you preach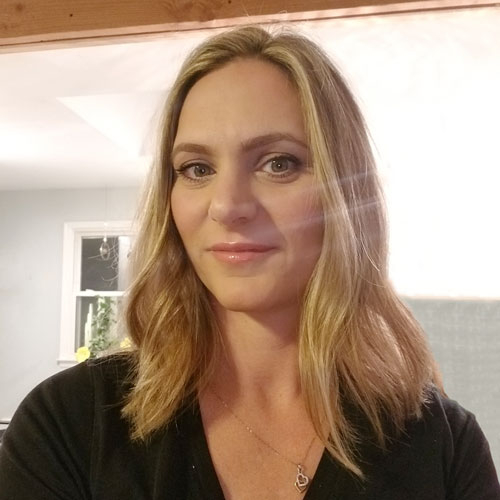 Kristen Cinalli, Sales Consultant
Positive company culture is something that needs to be interwoven into the fabric of a business. It needs to direct the decisions and interactions between employees and customers. Most importantly it needs to start at the top. Only by executives living positive company culture and supporting it, can it work, especially at a company that is spread throughout the globe. — Kristen Cinalli, Sales Consultant
It's one thing having an internal company culture document or a dedicated page on your website and even going following all these steps we talked about, but if leadership doesn't follow the same core values they try to enforce, the team won't see the purpose of them doing so either.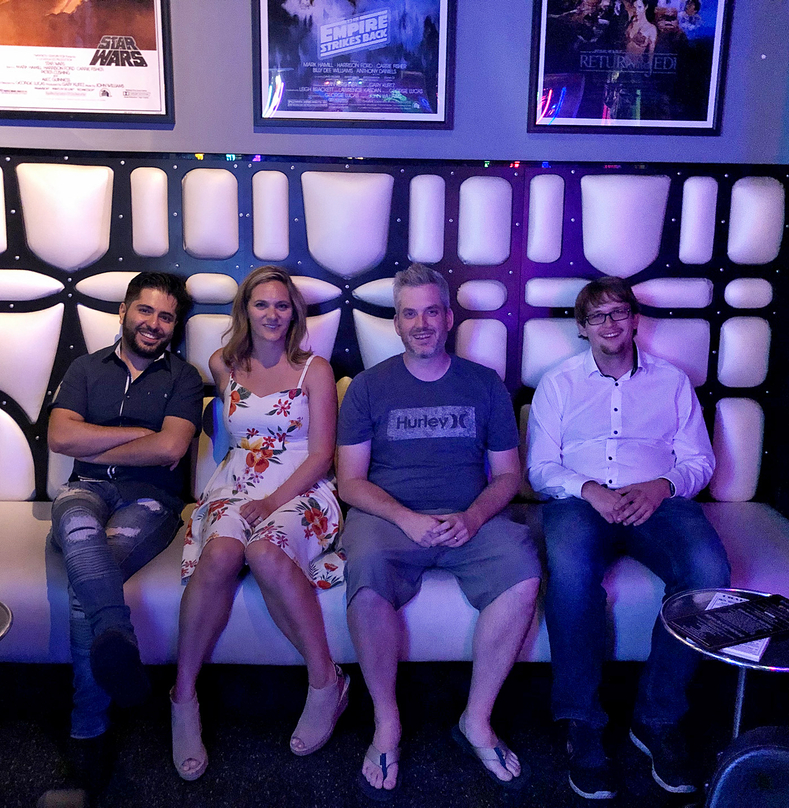 Meetup Orlando, 2019
Communicate with your team, learn new things about them, ask them about their day, engage in non-work related chat, try to join them on some of the meetups; it will make a difference. Leaders are the first ones that need to set the tone for nurturing an open environment, provide feedback and congratulate your team on even small successes. People should follow your lead, and how can they do that if they don't feel connected to you? This is even more true for remote companies where most of them won't have the chance to meet you in person, but people are your most important asset and taking the extra step to learn about their goals and values and give them guidance will be that final step in creating the right cultural foundation.
Conclusion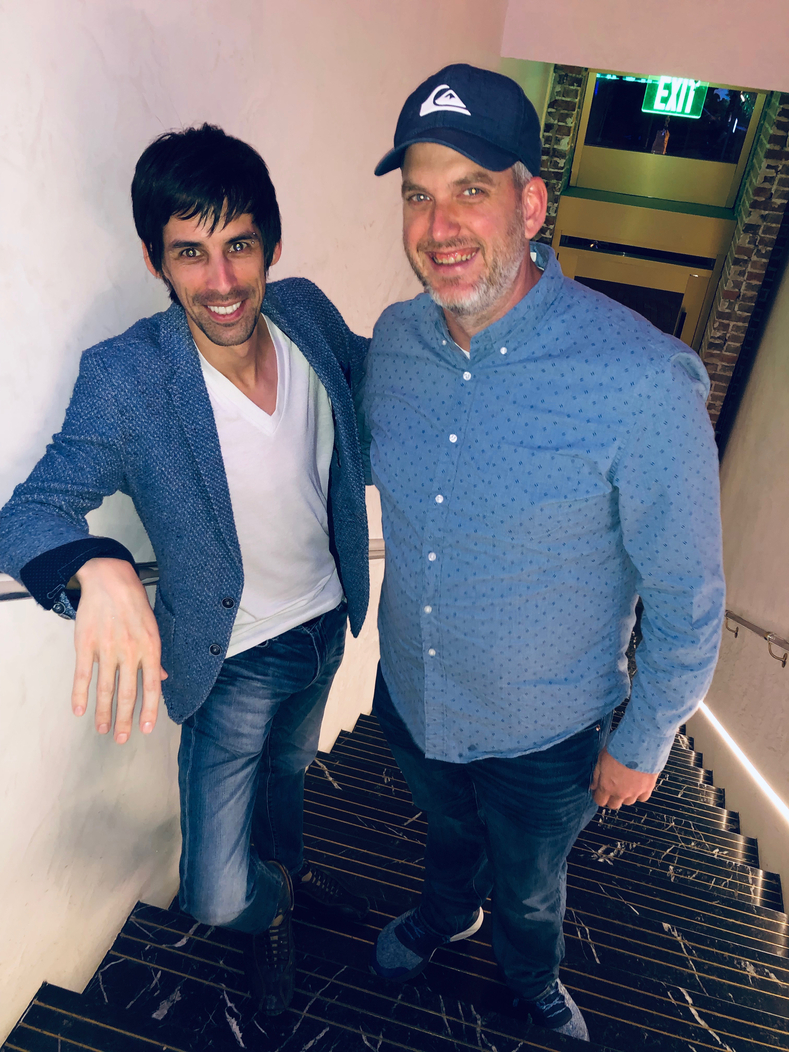 Chris and Courtney
While creating and maintaining positive company culture may be more challenging for remote companies than for their on-location counterparts, it's definitely not impossible. SecurityTrails will soon celebrate its two-year mark as a fully-remote organization, and we take pride in the efforts we make to nurture a culture where everyone can learn, grow and feel connected to the team.
The practical tips we've provided, which we've derived from our own experience, will surely help you kick-start your journey to great company culture for all in your own remote company.
---
If you enjoyed our story you can learn more about our remote team and the experts behind SecurityTrails! And if you're interested in becoming part of our company culture, you can visit our Careers page to stay in the loop regarding open positions as they become available.

Sign up for our newsletter today!
Get the best cybersec research, news, tools,
and interviews with industry leaders