Resolving Alert Fatigue in SOCs with Asset Context for Incident Evaluation
Reading time: 3 minutes

Cyber threats in the modern IT landscape can lead to severe fallout, including compromised data, damage to brand reputation, and loss of customers and revenue. In order to effectively minimize risk, many organizations rely on automated security solutions and software that provide real-time risk analysis and produce alerts whenever an anomaly is detected.
These alerts are crucial. They provide security teams with the knowledge of peculiarities necessary to indicate when malicious attackers attempt to breach their network and get their hands on an organization's sensitive data. However, false alerts can and do happen, and over time, this leads to security teams becoming desensitized to them.
Dangers of alert fatigue in SOC teams

In a security operations center, alerts that originate from innumerable amounts of systems and tools compete to get the attention of security analysts, who battle to defend their organization from cybersecurity threats as effectively as possible.

Putting the numbers in perspective, organizations with over 1,000 employees utilize around 70 security products from more than 30 different vendors. And all of those products produce alerts that can cause alert fatigue in SOC teams.

Alert fatigue in cybersecurity, also known as operational fatigue, occurs when SOC analysts become desentized to alerts from their tools because of their frequency. It's a major challenge faced by SOC teams as they bear the immense responsibility of maintaining network and data system security. Even the simplest of negligence, caused by alert fatigue, can compromise an entire organization's infrastructure.

The fallout from IT alert fatigue in SOC teams can manifest in several ways:
Burnout that can lead to a high-stress environment and high turnover of analysts
Lack of financial return to the organization
Security incidents and data breaches being missed by the SOC team
Empowering SOC teams with ASI

SOC teams waste valuable time manually correlating high volume alert data from multiple security tools. These alerts lack prioritization and actionable context, leaving the team to do all the heavy lifting, potentially spending time on low-risk alerts while missing out on critical ones.

For SOC analysts to respond to questions of incident relevance quickly and combat alert fatigue, having a ready understanding of public-facing internet assets is critical. Access to alert fatigue solutions that provide contextual data is also vital, for SOC analysts to better comprehend the magnitude of an alert and its accompanying threat to a digital asset in their organization's infrastructure.

Attack Surface Intelligence (ASI) provides your SOC teams with appropriate asset context to effectively prioritize risks and incidents across your entire cloud and on-prem infrastructure. ASI benefits include:
Near real-time inventory of all external-facing assets - ASI's Inventory section gives your team a unified view of all discovered infrastructure data, keeping them informed on potential security issues such as IPs pointing local, remote access points with open ports, exposed VPN endpoints and more.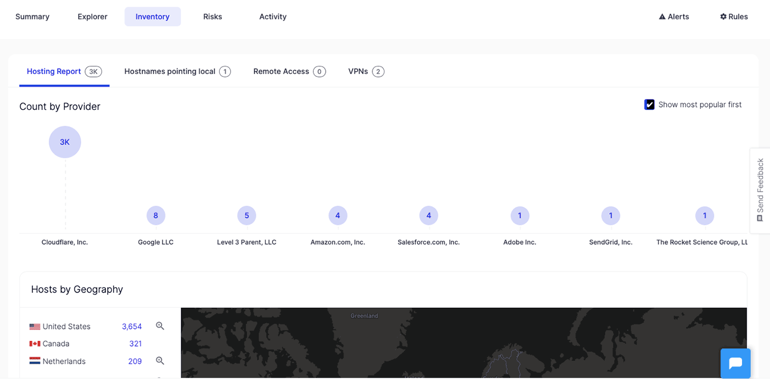 Highlighting of critical exposures on assets - Along with its inventory of all discovered assets, our proprietary automated asset analysis reveals critical security risks such as open database ports, self-signed certificates that can indicate service misconfiguration, and staging and development subdomains that are often left unprotected.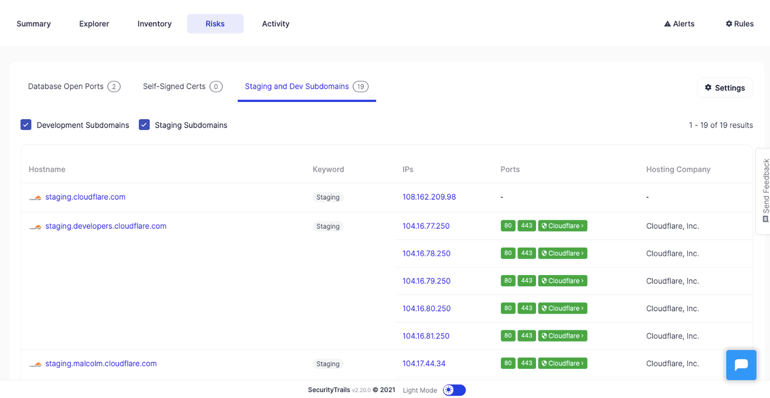 Appropriate contextual asset data - To effectively prioritize risks and incidents across your entire cloud and on-prem infrastructure, ASI's Explorer tab allows your team to choose an asset for which they need more context and simply scroll down to uncover relevant data such as open ports, ASN information, redirects and more.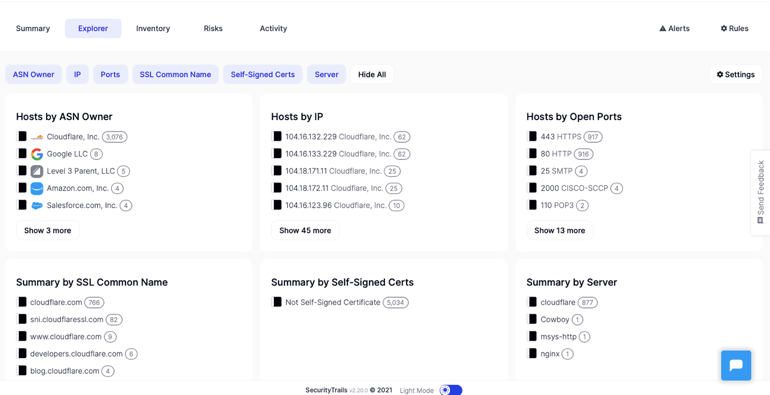 Proactivity with actionable data - To make the right call on securing critical assets, the Activity tab lets you keep an eye on all new assets automatically discovered by ASI, allowing for proactive monitoring whenever any new assets are live in your infrastructure.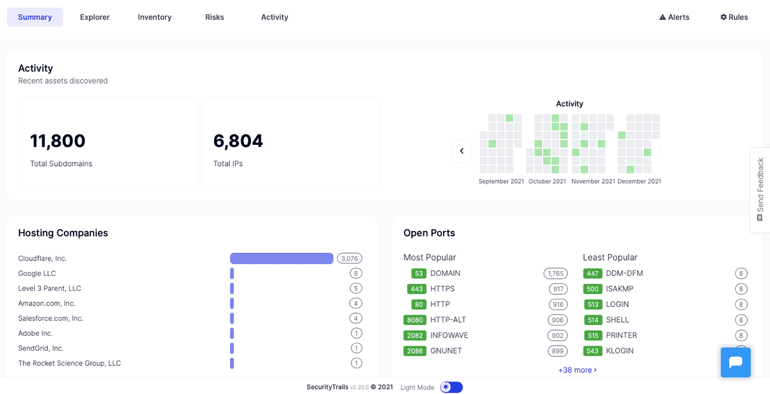 Don't let your SOC team waste time on low-risk alerts without context—and potentially miss an incident that can compromise your entire infrastructure. Leverage ASI to keep your team one step ahead.

Sign up for our newsletter today!
Get the best cybersec research, news, tools,
and interviews with industry leaders