SurfaceBrowser: a Passive Intelligence Tool for Exploring the Surface of Any Company
Reading time: 4 minutes
In the past few months, our engineering team has been working on a passive intelligence tool. After some testing, we are now happy to announce the immediate availability of SurfaceBrowser.
What is SurfaceBrowser™?

While auditing internal infrastructure, examining networking and server stuff is always important to help prevent attacks on any company. However, information located publicly, on the surface of the internet, is the first stop when attackers collect data about their targets.

SurfaceBrowser gives you the ability to look up your organization and domain names to perform a full audit of all the exposed data you're showing to the bad guys.

This exceptional intelligence tool lets you analyze any detail you can imagine about your own organization or any other online company.
What can I do with this new security tool?

SurfaceBrowser allows you to:
Browse all IP blocks that belong to the company you are exploring -- this includes blocks from ARIN, APNIC, etc.
Locate Associated Domains: the easiest way to find out what are the associated domains summarized by organization or registrar.
Find all existing subdomains: gathering all existing subdomains is easy with SurfaceBrowser, showing you a summary by hosting company or IP address range.
Explore open ports: you'll be able to find open ports (including 80, 443, 21, 22, etc) on any IP range from any organization.
Uncover rDNS records: fetching all PTR records is now easier than ever now.
Unveil all SSL certificates: by querying against certificate transparency logs and mass scanned SSL, digital certificates are no longer a mystery.
How does it work?

Our UX engineers have been working hard to make SurfaceBrowser as easy to use as possible. You don't need to be a highly skilled technical person or a developer -- with just a few clicks, you'll get all the information you need.

In the next video, our CEO and co-founder Chris Ueland will show you how to use SurfaceBrowser and how easily it allows you to gather intelligence data about any domain name, project or company on the Internet.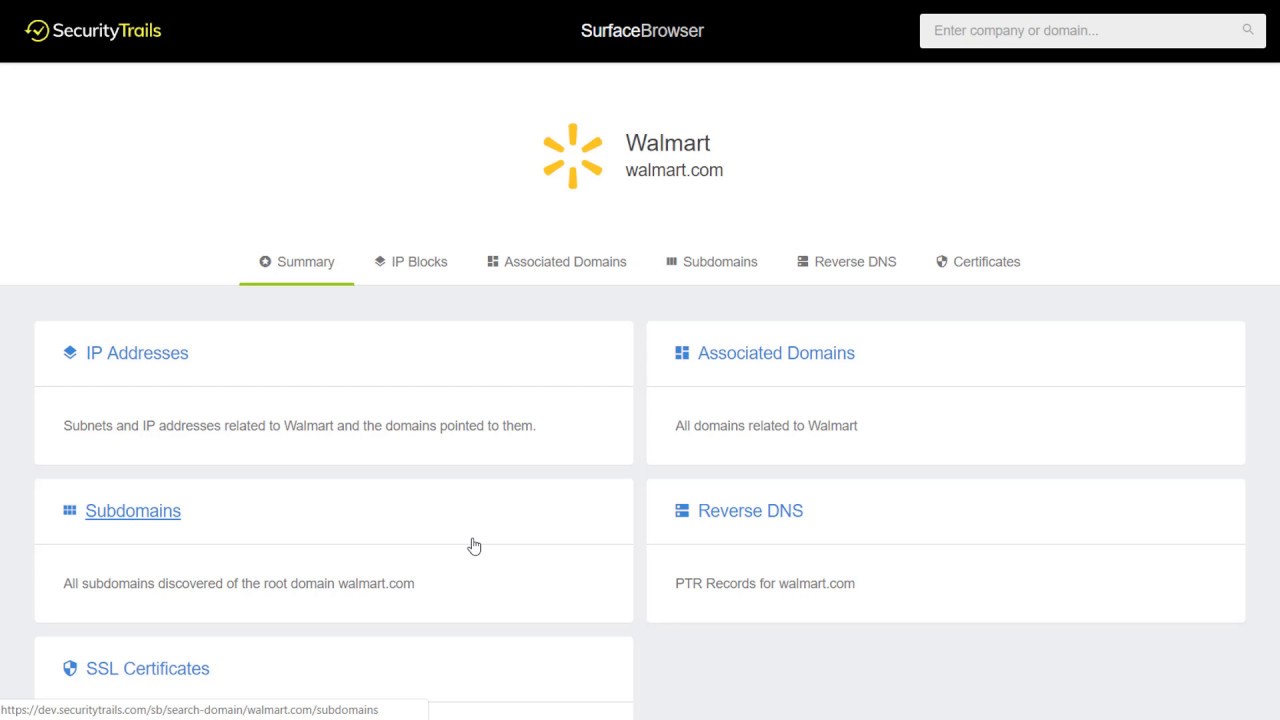 To show you even more, let's use facebook.com as an example, and see how many details we can get about this company.
The first thing you'll notice is a dashboard, where you can click on the area you wish to explore.

From there you can jump into any other section. Let's start with "IP Blocks."
Once you click in that link, all IP blocks related to facebook.com will appear in your screen.
You will be able to gather important details such as total hostnames, domain names inside each IP block, as well as IP address count.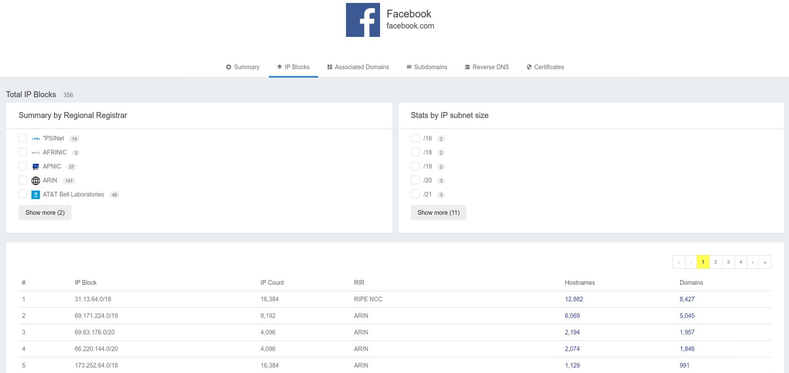 Associated Domains is another area to explore with SurfaceBrowser. It allows you to filter and sort all related domains by registrar, organization, creation date and expiration year.

At the results page, you'll get valuable details such as Alexa rank, company name, registrar, expiration date, creation date, MX provider as well as hosting provider.

What about subdomains? SurfaceBrowser has the ability to look into any subdomain infrastructure for any given domain name or company, unveiling private and public areas you would never know existed. This is a key point in any security investigation, and a highly useful resource for all infosec researchers.
Results will show you subdomain names, as well as the IP where they're hosted, company name and which ports are open for those exact hosts.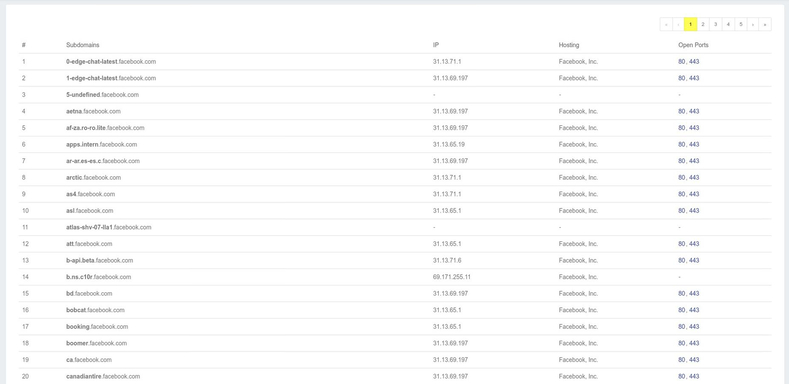 Whenever we try to dig into any company infrastructure, PTR records are a very important link to explore within the DNS and domain digital chain.
SurfaceBrowser will help you identify PTR records, as well as associated IP addresses and open ports for each.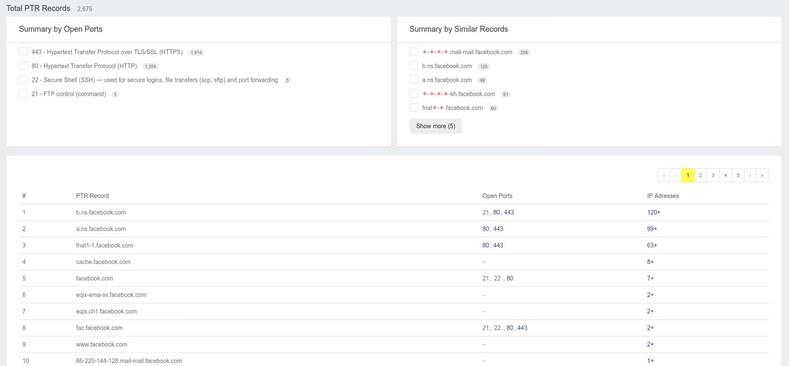 SSL certificates are extremely important for any company: they let you encrypt all your pages to make them secure for both ends (client and company). And thanks to our massive SSL scans and certificate transparency logs, we're able to offer you one of the most complete SSL information resources on the Internet.
Browsing SSL certificate information and filtering by CA company, country, creation year or expiration year is easier than ever. But that's not all -- you can even dig into active and expired SSL certificates.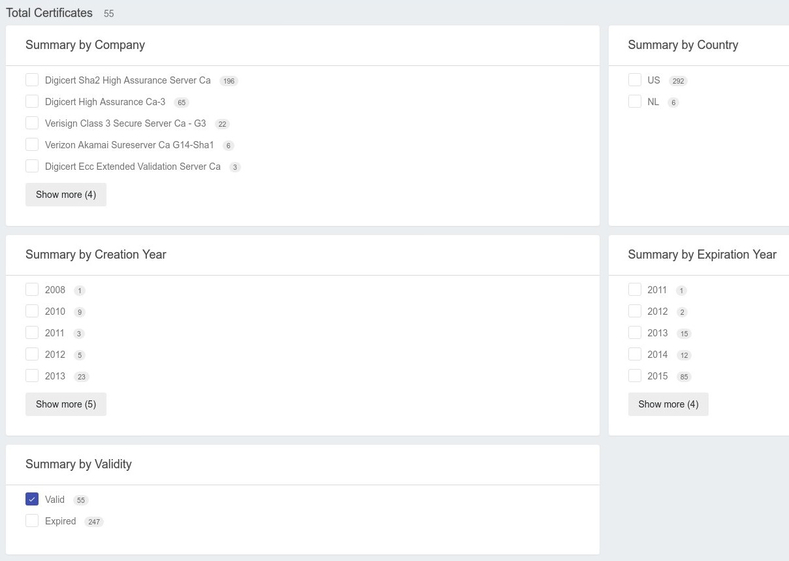 ---
As you can see, it doesn't matter if you're investigating a brand new domain name, an established organization or a midsize company: with SurfaceBrowser you'll get a comprehensive list of the main domain, associated domains/subdomains, open ports across related IP ranges, PTR records and SSL certificate information.
Schedule a demo with us today and experience the magic of our powerful SurfaceBrowser tool. If you have any questions, don't hesitate to contact us. We're always here to help!

Sign up for our newsletter today!
Get the best cybersec research, news, tools,
and interviews with industry leaders