WHOIS History Update: Get the Full Historical View of a Company's WHOIS records
Reading time: 2 minutes

Today we're excited to announce several improvements in our WHOIS historical records that take our data to the next level, so you can analyze any domain name ownership information more efficiently.
Enhanced WHOIS timeline

Our improved WHOIS timeline will now detect business 'Start Date'. This feature will show the exact date when new companies and individual owners acquire active domain names. At the exact moment of acquisition of the domain, the domain history changes in our database, and you'll be able to visualize the new records easily on the public WHOIS timeline.

As you can see in the screenshot above, you'll see the ownership change of a domain name in history. Additionally, it will be possible to detect public and private WHOIS records thanks to our red-and-blue color scheme.
Additional WHOIS historical records

Along with the timeline changes, we're also introducing additional WHOIS historical records to our database. This will let you obtain even more information than before, as shown in this comparison:

Before

After

This new enhancement goes deeper into the history of a domain name and allows you to extract additional data from its records. This helps security analysts find noteworthy spots to examine while uncovering the full historical behaviour of a company's asset.
To go even deeper into the domain history analysis, you simply need to scroll left on the timeline to find older records that may seem interesting until the desired timeline position is found.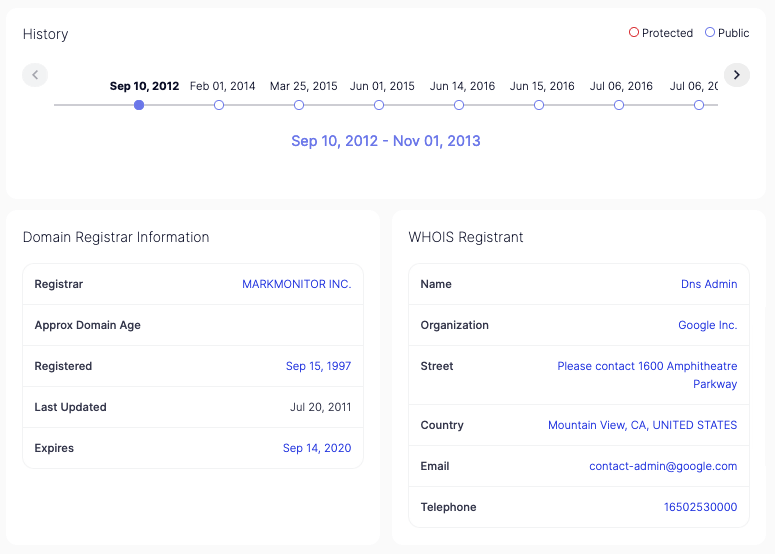 As an example, the above analyzed domain name has several dates to be checked against. Once clicked, the WHOIS information corresponding to that exact date will be displayed below.
With additional historical information, you can easily visualize the life of domain names, their owners, contact information, and much more.
Summary

These new enhancements to our WHOIS data will allow you to gain more visibility over changes throughout the WHOIS timeline, while providing access to historical records spanning further into the past, not previously available in our database.

Whether you're using our SecurityTrails API or any of our other products such as SurfaceBrowser™, the new WHOIS data is already available for you.

If you don't have an account with us yet, grab your Prototyper API key to start querying WHOIS data today!

Sign up for our newsletter today!
Get the best cybersec research, news, tools,
and interviews with industry leaders