WikiScan: behind the scenes of Wikipedia.org
Reading time: 2 minutes
We all have used Wikipedia from time to time. It's one of the biggest and most active web encyclopedias in the human history. Only the English version contains up to 45 million articles, that if printed would be the equivalent to 19,000 volumes.
Only from the United States, Wikipedia receives around than 120 million monthly unique visitors, and it's the current 5th most visited website in the World according to Alexa global stats.
But those stats are not as impressive as what we will show you today. Days ago exploring the web we found a pretty cool project called "WikiScan".
What is WikiScan?

WikiScan.org is a website dedicated to generating full statistics about Wikipedia usage, including sites, edits, pages and authors for every Wikipedia version you know.

This site is fully independent from the Wikimedia Foundation, but hosted by them, in particular, they are sponsored by Wikimedia France in terms of the server hosting infrastructure.

Browsing the site shows the information right in front of your eyes so you can take a look into the general and specific stats of Wikipedia, and other wikis like Wikinews, Wikibooks,  Wikiquote, Wikivoyage or Wikiversity.
English language stats

Some interesting stats from the English version of Wikipedia collected since 2001 that you may find exploring the website:
Total article pages, edits, content size.
Active users per month, users with more than 5+ to 1,000+ edits.

You can also find other cool graphs and stats about users, IP addresses and Bots per day using the English version of wikipedia.com.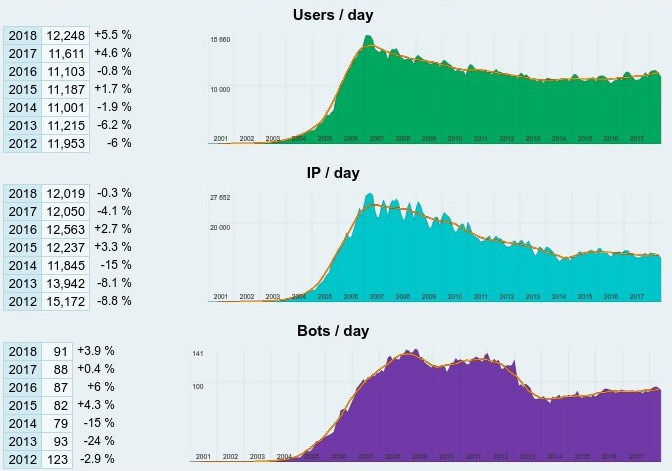 Did you think that SEO managers only rely on Google Trends for hot trending topics? They can also use this Wikimedia stats to check out trending topics by using the "Last hours" and "Grid" options located on the top menu:

There is also a hall of fame showing the most popular users inside Wikipedia.com, check out the list, that includes total edits, edits on articles and pages, sorted by users. Check out the top ten:

Statistics are one of the most important ways to get a graphical and mathematical look for any organization, company or website. In this case, Wikipedia is holding a big treasure trove with wikiscan.org, same as we do for your DNS, Domains, IPs and server data here at SecurityTrails.
---
What about you? Do you use statistics and graphs in your day to day cybersecurity work? Share your story with us.
In the meantime, sign up for a free API account, start exploring and integrating our powerful security platform with your own apps.

Sign up for our newsletter today!
Get the best cybersec research, news, tools,
and interviews with industry leaders