Working Remotely: One Year as a Fully Remote Team
Reading time: 17 minutes
Our first year as a remote-first company has been both an incredible journey and excellent learning experience. The remote aspect of the company was set as a key strategy from day one, and seeing how the initial idea has developed into what it is today has been nothing less than rewarding.
We have already shared stories with you from our previous meetups, such as the one in Budapest and the one that we held in Las Vegas. As we now come to the end of our first year as a fully remote team (a team with members located in different parts of the world), we are glad to share our journey, including all the ups and downs and what we've learned so far.
Our beginnings

SecurityTrails was founded in June 2017, and from the very start it was decided that it would be a fully remote team. What began as a team of three people based in the US has grown into a team that currently counts 19 individuals. And that's not even taking into account the number of contractors we work with, living and working across the entire globe.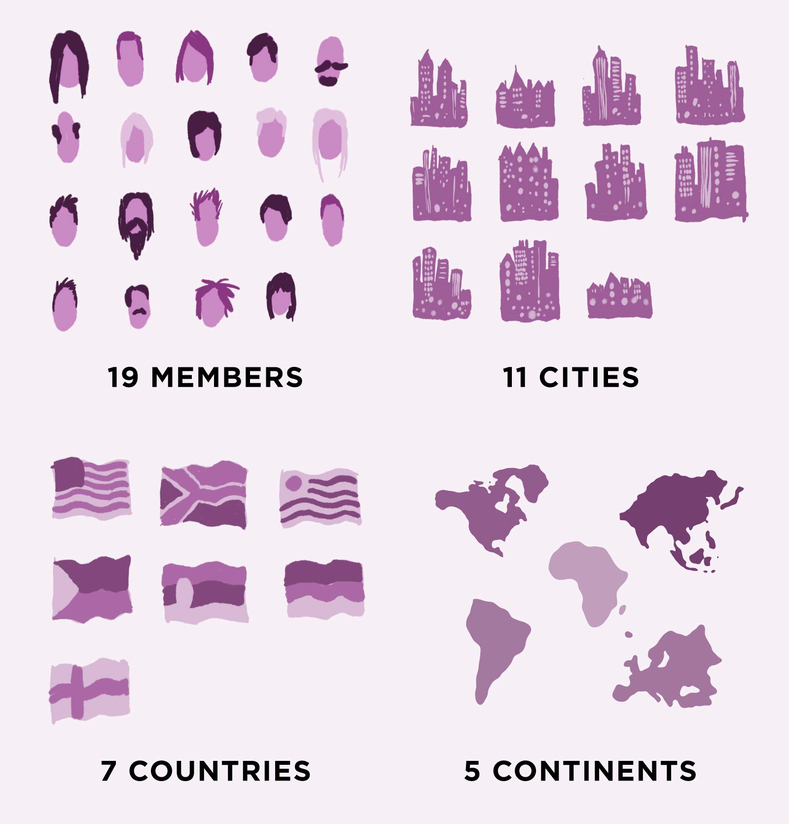 The game plan was focused on having a fully remote team, with everyone working remotely all the time, in contrast to the strategy enforced by many companies where only some parts of the workforce are remote, with others commuting to a central office. That's a common approach when companies are just starting a "tryout" of distributed teams.
Finding the right people who are both passionate about infosec and true experts in their field can be quite a challenge when you limit yourself by location. This is another benefit of running a remote business. The SecurityTrails team currently features experts from the USA, Uruguay, Serbia, Finland, Germany, South Africa and the Philippines.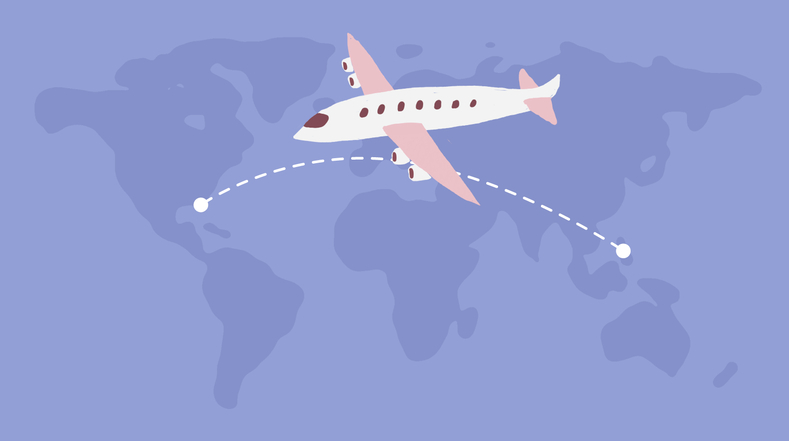 The biggest distance between our team members and our headquarters in Orlando, Florida is 14,770 km.

This also gives us the opportunity to look for future team members wherever we go — every new conversation or acquaintance is a possible new hire if the person is deemed a good fit. We keep our eyes open for individuals who can further our company culture and values, are passionate about security and love data as much as we do.
Working remotely

Not long ago, working remotely and from home was only a distant dream for many employees in almost all industries. Today, the situation is quite different.

In a study released by PGi, around 60% of professionals work at least one day per week remotely, and 63% of workers in the survey said that if they could, they would leave their job for a full-time job that offers remote work with the same salary.

With so many people harboring the desire to switch up their jobs for a remote position, why are companies still so opposed to having a remote workforce?

One possibility is the old negative connotation linked to remote work, which proposes that there is less control over employees and how they spend their working hours, but as they say — out with the old, in with the new.

Having full control of how your team members spend their time shouldn't be an imperative. What is important is that the job gets done and that everyone functions in sync and as a team. Having a remote team requires trust from both sides and particular characteristics shared by employees to work, but these requirements don't make the experience untenable.

With remote work now a global phenomenon, employees themselves are guiding companies to leave conventional and established policies that have affected how typical work days have traditionally looked, and we're glad to see more and more companies enjoying the true benefits of distributed teams.

The biggest question people have when they consider the idea of having a remote team is whether the lack of live interaction means the work will not be done, or that it won't get done satisfactorily. Well, we can say that the work definitely gets done!

For the best intel from an insider, someone who has successfully led his own remote team, we had a word with our CEO Chris Ueland and asked him a few questions about SecurityTrails and the culture of remote workers:

Q: How did you get the idea for SecurityTrails being a fully remote team?

Chris: There are two reasons. One is that I have always had big central offices, and that works very well, but with Slack coming around, and this company being focused on a niche, having offices makes you essentially limited to around a 10-mile commute. Finding people who are so passionate about security within 10 miles is not an ideal situation to be in. Another reason is that I have always wanted to work with Courtney; we've known each other for 20 years, and he lived in Portland, and I lived in LA at the time, so that was also a driving force to work remotely. Also, [a remote team] provided me the opportunity to move, since I was living in one place for years. This gave me the flexibility to change locations, such as I did now — when I moved to Orlando, Florida from Los Angeles, California.

Q: Were there any obstacles in the way of starting a remote team, and what were the biggest fears?

Chris: Fears were about our ability to be cohesive as a team, that everyone felt like they belonged. When you have offices it's easier, but we had some tricks because we had remote teams before, so we took those tricks from MaxCDN. One of my concerns was, and still is, sales and finance, and we will probably have those close to me in the future. Also, for engineering; at my previous company, our CTO was not pleased by the idea of a remote engineering team, but Courtney was open-minded and he works very well with it.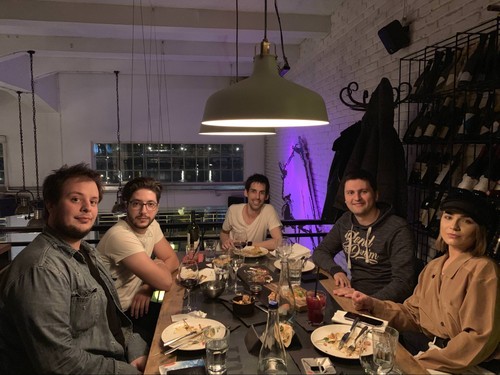 Q: After a full year, what has been the most rewarding thing about running a remote team?
Chris: I think it's always looking at the pictures from meetups, and then looking at our staff page, watching it grow, and then it's watching town hall meetings and how people are starting to talk to each other, talking about what they work on, and just being a truly devoted team that works well together.
Top 4 advantages of having a remote team

There are numerous studies that analyze the benefits of people working remotely, but what are some tried and true pluses, ones that we can claim from our own experience as being noticeably better for the entire team? Here are the most important advantages of running a distributed team:
1. Finding the best talent, no matter the location
As Chris said, one of the driving forces for SecurityTrails being a fully remote team was the ability to find the best talent without limiting the search to a few miles of commute.
This is one of the most important pros when banking on the success of remote teams; you are able to look anywhere for the best talent and the best fit, and the possibility of any person you talk to becoming a part of your team is game-changing.
An added bonus is that by presenting your company as remote, you are from the very start attracting the right talents that may go elsewhere for the opportunity to work from home, and in the IT industry the ability to work remotely is what employees are currently looking for the most.
Besides attracting the right people, you are also cutting out all the others that don't want to work remotely, possibly making it easier for your company to differentiate between those that may not have the time management skills needed to be a remote worker.
Remote engineering teams are very specific, especially when team members are located in different time zones. Our CTO and co-founder Courtney Couch leads our engineering team and makes it work, even with its members in 4 different time zones. How does he do it? We found out:
Q: Is SecurityTrails your first experience with managing a development team remotely?
Courtney: I've been working with primarily remote teams for around 17 years, before it was in vogue. I've had an office in California, then in India, and after that I started having teams all over the world. I felt that was always the much better route to go. Some may be more used to having offices and it feels more natural to them, both perspectives have pros and cons and both require different strategies, but it's hard to blend the two — it's usually one way or the other.
Q: What are the biggest difficulties with, specifically, engineering teams that are remote?
Courtney: The biggest challenge is about the types of people you recruit; the types of people that thrive in distributed teams are not the same people who thrive in an office space where all the people they work with are in one place. It's usually that the people are one type or the other, they are mostly not effective at both. A good indicator is if someone has had experience as a freelancer — someone who is self-driven, someone without the need to have the structure that comes with a totally local team.
Q: What are the elements of running a fully remote engineering team in contrast to other type of teams?
Courtney: The primary challenge for people who run remote teams, meaning any remote teams and not just engineering, is that you lose interaction, casual interactions that you have in a space you are sharing. With remote teams you have to create that feeling so people don't become out of sync with one another. People can sometimes get demotivated, lose the feeling that they are in a team, so you need to purposefully create those environments that exist when everyone is in the same space. If I can sum it up with one word, it would be "over-communicate," via all the communication channels you share with your team.
2. Diversity and building a company culture
In 2018, diversity is what everyone is looking for. In the job market, it's even more accentuated. At their core, remote teams have diversity, not only as a by-product of a having a distributed workforce, but also as their goal.
Having team members located across the entire world brings different cultures and perspectives to the table, meaning there is no shortage of fresh ideas and new outlooks. It may seem frightening, managing that many different people all with different backgrounds, but once you see how this can benefit your company, there will be no turning back.
Diversity allows you to work on building a company culture that will encourage employees to be highly motivated and productive. No matter how diverse your team is, everyone is there because they are passionate about the work they are doing, and nothing brings about strong company culture more assuredly than having a shared goal and the hard work needed to achieve it.
With travel back and forth, from his home to our headquarters in Orlando, our Germany-based product and marketing manager German Hoeffner has shared with us how the frequent change of pace from remote work to interacting with our leadership in an office affects his time management:
Q: As a product manager, how difficult is it for you to work remotely, physically distanced from your team?
German: It's sometimes difficult, but it just takes time to get used to. The difficult thing is managing all the time zones of many different people. You need to keep all time zones in mind when it comes to meetings, etc., so that can be challenging.
Q: How often do you travel to our headquarters in the United States?
German: I travel there every few months because some things are just easier when you are there. We know we only have a few weeks to get that specific work done, so everyone is much more motivated and eager to work. It just provides a different pace. It would also be very different if we were close all the time, and I think that this balance works perfectly.
Q: Has working remotely provided you with more freedom to work on possible side projects, as you have run a production company in the past?
German: It has provided more freedom in terms of private things. I love that I can now go to the grocery store during the day (and during the working week) and for me it has huge benefits. You can just do all the stuff more freely. A downside is that I work often in the evening and at night, and that's when people in Germany meet up, so it's more difficult to schedule in-person interactions here. But overall, the other benefits are much greater.
3. Increased productivity
Many people in higher management might not turn to the idea of remote working for fear that it will lower team productivity, a traditional way of thinking about offices, work space and their effectiveness.
Why not just stop reading tips for making your office a place that will motivate your team? Throw away that feng shui book — and let your employees choose their own spaces from where they wish to work.
The distractions one finds in an office, such as spontaneous meetings, loud colleagues and kitchen gossiping, aren't an issue for remote workers. They choose a place to work from and the absence of distractions leads to their higher productivity, focus, and in the end, efficiency in getting the work done. Often, companies with both in-office and remote employees have noticed better performance from those working from home than from those who come into the office every day.
Productivity is not only higher because of the lack of distractions, but also from the contentment employees feel when they have more freedom in their private lives, knowing they have the option of being wherever they want.
With the phenomena of digital nomads, more and more people are choosing to work and travel at the same time, having longer holidays that are split between sightseeing days and those spent with a laptop.
Sure, days spent on a laptop may not sound that appealing, but what if when you move your laptop a little to the left, you see before you a grand sandy beach and turquoise water that hits the horizon?
We also talked with our engineer Alexander Gebhardt; Alex is located in Germany, but this year he spent an entire month travelling and working for SecurityTrails. Here is his story on the entire work & travel experience:
Q: What are the best things that being able to work remotely for SecurityTrails has brought you?
Alex: This job allows me to be super flexible. I still have responsibilities of getting the work done, but the thing is that now I can decide where I want to work, and when I work during the day. I think that's an important perk for us engineers, because you can sometimes struggle to find a solution to a problem you are having, and you get the idea for the solution, for example, just before you go to bed. Working remotely allows you to try out that idea at any time. It won't go to waste by waiting until tomorrow when you arrive at the office.
Q: You've traveled to Asia while being a full-time remote employee. What was your experience with working and traveling?
Alex: It was one month total in Asia; I was in Japan for one week and in South Korea for three weeks. Only one week of that was a real vacation, the other three weeks were intended for testing out how it would be working in this country. I could get my work done, it was much easier. Asia has many things to help you get the annoying things out of the way, such as the internet being reliable and cheap — it was just easier to work from there than from Germany.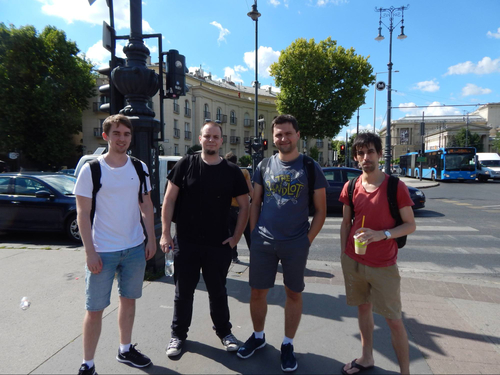 Q: What were the biggest difficulties you experienced while working remotely and traveling?
Alex: I would say the time difference, just because it was a change from my normal working hours while in Germany, but it's not that different than when I'm back home, since we already have time differences in our team located all around the world. Besides that, no problems at all.
4. Loyalty
The improved work-life balance not only increases productivity with your team members, but it will also help you keep your employees.
Once you have a set strategy for hiring remote workers, you will have a team that thrives when they have time management left to themselves. Overall, they'll be happier and more content, significantly lowering employee turnover rate and successfully maintaining company culture.
When individuals work from home, they find comfort in scheduling their lives much more freely, leaving less room for stress and dissatisfaction with the workplace.
As someone whose first remote job was at SecurityTrails, our engineer Dejan Đekić talked about his side of the story and whether he would go back to working in an office:
Q: What has working remotely taught you?
Dejan: Time management firstly. Working remotely is a bigger responsibility than working on site; that amount of flexibility comes with greater responsibility and greater chances of having some distractions while it's important to finish the job. To sum it up: time management and self-organization.
Q: Being so far away from the rest of the team, what are some difficulties you've experienced?
Dejan: Loneliness. I'm a social animal and working remotely means that you are alone and communicate only via chat or sometimes a call. Another thing is to organize and catch people when they are online so you can communicate in their own time zones.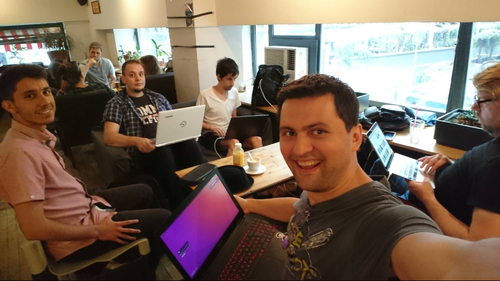 Q: After a full year, would you go back to working in an office space?
Dejan: I don't know actually. Both have their pros and cons — remote work gives you better flexibility but you have to remain at a level of a greater responsibility. What's important in remote work is that you have clear and verbose communication, but that is not needed in an office space. It's a tough call, but I would say it depends on the project, and the people included of course.
Disadvantages and obstacles of having a remote team

While there are many advantages to having a remote team, and more and more companies are turning their strategies in that direction, we can't shy away from showing some obstacles on the path. But with diligent work and clear communication about goals and tasks, any obstacle can be easily overcome.
1. Diversity and building a company culture
Yes, that's right — diversity and creating a company culture can be a hard challenge that might turn some away from pursuing the goal of a distributed team, despite its being an advantage.
It's the relationship between team members that creates true company culture, and not having them communicate in person presents a wrinkle according to many existing management handbooks.
For this reason, the leadership of remote teams needs to put in extra work to make everyone feel more connected and real. Using apps and tools such as Slack and Google Hangouts, which facilitate regular video conferences, will bring a more positive note to remote teams.
It might not be easy, but it's still very manageable. It will only take focused time and effort to build a strong culture. In these situations, meetups are of great value in creating meaningful bonds between team members.
2. Communication
There are many messaging and video apps and tools, but even the corporate favorite Slack doesn't provide the level of communication people experience while sitting in the same room or sharing a coffee break.
As our engineer Dejan said, loneliness can be a problem with remote work and constantly being away from your team can affect their motivation in the long-term.
This con ties directly to the previous one of building company culture; in-person interaction and communication brings people together and makes it easier for them to function as a true team. Also, reading the body language and tone of your team members is something that contributes to a better bond, and that's something that other forms of communication lack. For this reason, over-communicating, as Courtney said, and wording messages carefully and thoroughly is of great importance in remote teams.
But relying on specific and different ways of communication is not necessarily a con — it can lead to your team members becoming more reliant on themselves and their knowledge, without the need to constantly check in with team leaders and management.
Conclusion

Taking into account all the advantages and disadvantages of remote work, we have rounded up this first year of SecurityTrails with great success. There are many specifics about the tips and tricks we use to make this team function as it does, but keeping good communication whether it's via Slack, Google Hangouts, Skype or telephone is the number one thing that keeps our team motivated and striving toward collective goals.

Having people who are all passionate about the project is also key, especially when your company is focused on a niche.

The biggest tip we can share is to have meetups; every single meetup we've held has brought our team closer, not only on projects and in working together, but also in the interpersonal relationships shared between all our team members.

We will keep working on all the complexities of having a remote team, and continue sharing our experience and journey, how we keep progressing and growing, all the obstacles we find on the way and how we bounce back as a stronger team than we were before.
---
If our story sounds like something you would be interested in contributing to, contact us regarding plenty of open positions!

Sign up for our newsletter today!
Get the best cybersec research, news, tools,
and interviews with industry leaders