The Feeds Security Experts Need
IP, Domain, Company Enrichment, and More
Get high quality and up-to-date feeds through our simple web-based interface, plus use them in your own applications. Get a Free quote tailored to your project.
Get a Custom Quote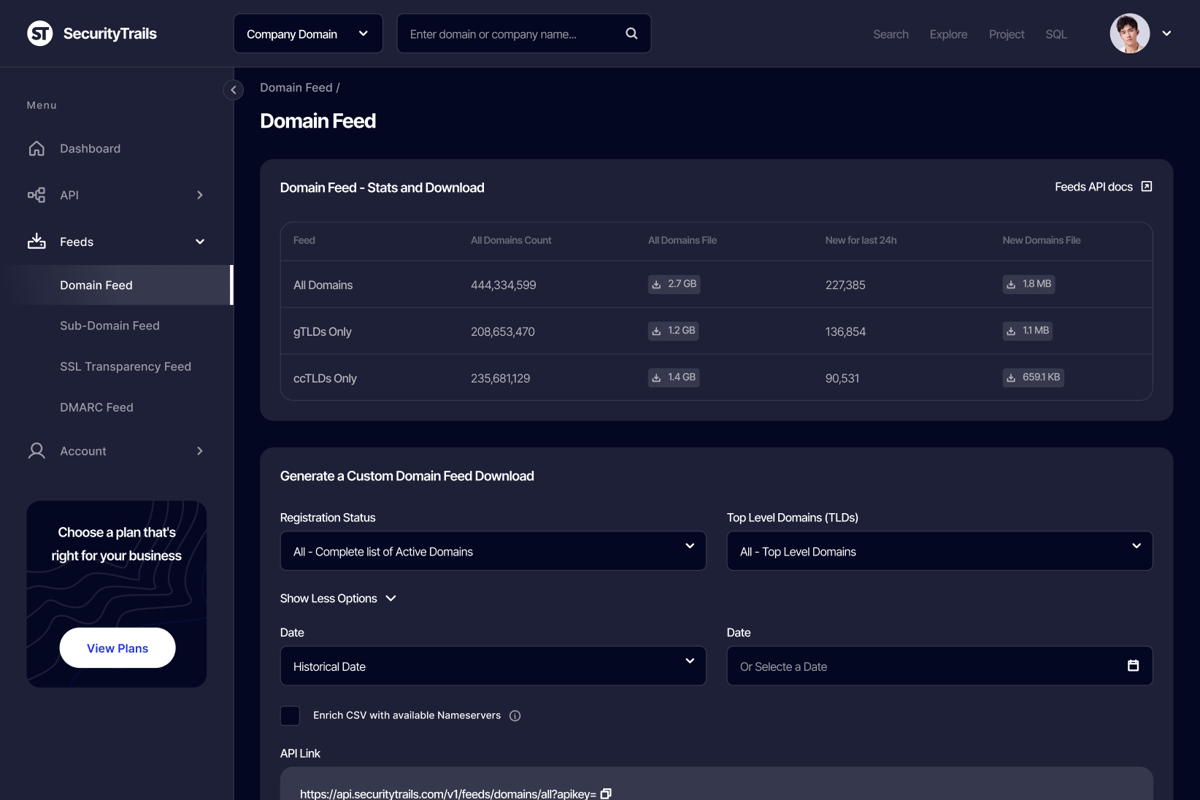 Key Features
All The Data You Need
Get access to the most complete list of domain names, ready to be saved, analyzed and manipulated on your local PC.
Always Updated
Unlike other feeds, our intelligence feeds are updated every 24 hours, keeping all data fresh, current and ready for you.
Accurate Information
Don't be misled by the wrong information—our feeds are constantly curated and always accurate, giving you the right data for your infosec needs.
Custom Downloads
Generate custom feed downloads by type, ccTLD/TLD and registration status, with the option to enrich CSV results with available nameservers.
Instant Visibility
Watch over suspicious activity by inspecting domain names to prevent possible suspicious campaigns including phishing, spam, malware and copyright violations.
Web-Based Console
Explore static feeds or download a dynamic feed from our intuitive console or by using our API endpoints.
Discover the SecurityTrails Feeds™
Find out how our Security Data Feeds can help your organization prevent phishing, spam, copyright violations, and much more.
Domain Feeds
Simplify your security research and be better prepared with Domain Feeds
1,500+ Supported TLDs
257 country code top-level domains
1299 generic top-level domains
Fetch, and filter any domain feed
Access all domains
Sort gTLDs only
Sort ccTLDs only
Download by registration status
Select from:
All, newly registered, or newly registered and newly revived
Search by date
Select the latest feed or browse by specific days
Multiple Data Sources
Proprietary passive DNS servers
Custom licensing with registrars
Parsed blacklists, and more...
Enrich your data with current and relevant feeds
What is our data used for?
IP and domain enrichment
Building custom crawlers
Offline investigations
Cybersecurity insurance underwriting
Understanding web technology adoption
Market share reports
Detect phishing attacks
Find spam domains
Stop malware campaigns
Discover copyright violations
Zone Files and Transparency Logs
DomainLists is a TLD zone-file feed with over 1,287 gTLDs and ccTLDs available and daily updated. They are available as simple CSV downloads and APIs for integration into your application. We use a sophisticated process of parsing zone files for Generic Top Level Domains (gTLDs) and recreating country code Top Level Domains (ccTLDs). Many domain registries don't distribute complete zone files so we process lots of data to recreate domains.
All our gTLDs and ccTlDS domain lists are updated daily.
Fetch all domains including their last seen nameservers from the API.
See newly registered domains
Figure out which generic TLDs have been registered today using our API.
We use our own technology to find and validate domain names.
You will be able to download a list of every individual Top-Level-Domain as a CSV file.
Our API allows your to download all domain lists in an automated environment.
Get real-time updates of certificates being issued
We provide the certificate transparency logs by all issuers via our unified feeds interface. This allows you to develop your own applications to protect your brand, find malicious certificates, and get a general overview of certificates that are unknown to you. We include all important certificate information, such as issuer, common names (domain names), fingerprints, subjects, and expiration dates.
Issuers we Monitor
As certificate transparency logs become more widespread, we're constantly adding new data sources. Currently we include Google, Cloudflare, Digicert, Certly, Izenpe, WoSign, Venafi, CNNIC, StartCom, and Comodo.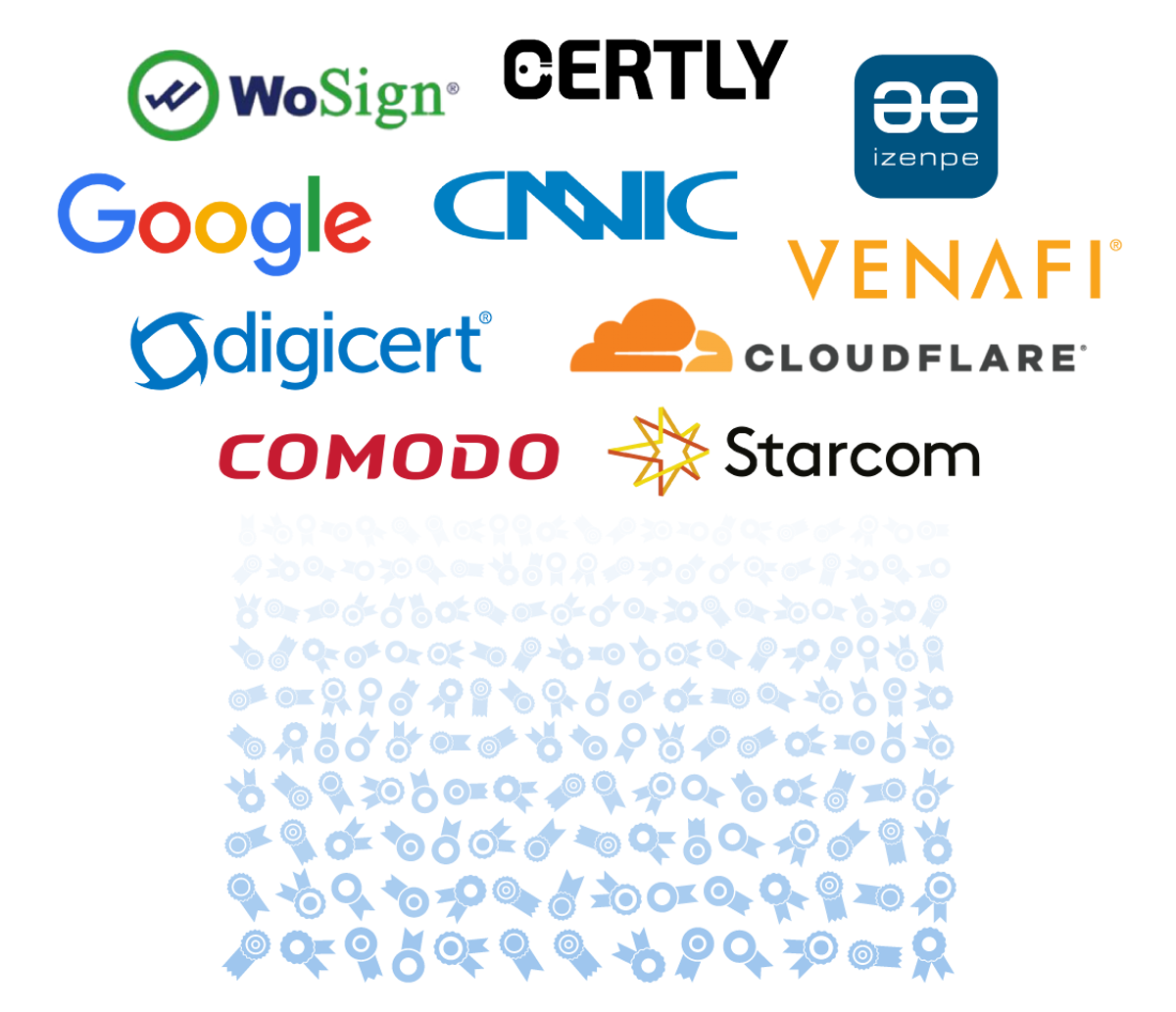 ---
Real-time ingest from all known issuers. Ability to find new certificates that companies registered, new subdomains and new potential phishing vectors.
---
Over 1.35 Billion current and expired certificates you can search and mine. Find and understand which certs have been registered to a domain or organization.
Learn more about SecurityTrails Feeds
Take your data enrichment to the next-level with customized curated feeds that play well with all your applications.