Attack Surface Management Driving Secure Digital Transformation
Reading time: 6 minutes

A recent study by IBM found that nearly six in ten responding organizations accelerated their digital transformation efforts due to the COVID-19 pandemic.
The disruptive ground brought on by the global crisis, further exacerbated by the rise in hybrid and remote workforces, has shown organizations just how important it is to be built for change. They need to be both scalable and flexible, and the same goes for their IT infrastructures.
Cloud adoption and management is now at the top of priority lists for CISOs and executives, with the same study's organizations planning a 20% increase in their prioritization of cloud technology over the next two years.
There is clearly no doubt that digital transformation and accelerated cloud adoption can help organizations optimize and streamline their operations, create innovative business offerings and achieve competitive advantage.
However, the implication of rapid digital transformation, adoption of new technologies and the remote/hybrid workers sprawl means that CISOs and security teams can find themselves unable to fully grasp, and thus secure, an ever-growing attack surface.
The key role of attack surface management in digital transformation

Because of digital transformation, today's organizations don't keep all of their digital assets secured tightly behind their perimeter. Rather, they're scattered all over the Internet, sometimes forgotten and often unsecured. With more areas where a threat or cyber attack can take place, organizations need to protect their critical assets.

Also because of digital transformation and cloud adoption, many organizations can suffer from issues with vendor migration and legacy tooling left online longer than planned.

The best way to react and respond is with a full understanding of their external attack surface and all digital assets. This is why attack surface management plays a key role in the journey to a secure and successful digital transformation.

Attack surface management, or ASM, allows organizations to identify, inventory, classify and monitor all digital assets in their external infrastructure. For organizations with large amounts of cloud instances or hundreds of VPNs, AWS instances, etc., ASM can be particularly important, by helping them identify all of their attack surface components, attack vectors and exposures.

With a unified view of its external infrastructure, an organization can better navigate across disparate technology systems and quickly map and resolve vulnerabilities while keeping pace with its dynamic attack surface. It can also arm the organization with insights toward making better-informed decisions regarding digital transformation efforts.
Solving digital transformation challenges with ASI

Attack Surface Intelligence (ASI) is the platform we created to tackle the challenges of digital transformation and the evolving attack surfaces that come with it. ASI can provide your organization with accurate insight into all digital assets, including their location, ownership and the services and technologies running on them.

Essentially, ASI is there to make attack surface management easy.

Discover and visualize all of your digital assets

Many organizations struggle with keeping track of all their assets, but rushing to adopt new transformation technologies and diversify an IT environment can make staying on top of an already chaotic infrastructure even more challenging. The lack of visibility into its infrastructure can give an organization an incomplete picture of its digital risks, putting it at serious danger of a data breach.

Asset discovery helps organizations maintain awareness over all of the assets and services running within their infrastructure. With continuous discovery, you can even find risks in forgotten and assets in development, well before they become threats.

ASI allows you to visualize and organize all digital assets instantly, providing all information related to your apex domain, subdomains, associated domains, and open services such as open ports and SSL certificates, all with great accuracy.
Manage all of your digital assets with a unified view
An accurate asset inventory lets you mitigate any risks and proactively protect your evolving external infrastructure. And fortunately, ASI provides you with an understanding of any potential security risks and issues such as records pointing to local networks that might be exposing your infrastructure to the internet, server endpoints accessible remotely, VPNs, and more.
ASI will allow you to have a unified look into your entire asset inventory and besides showing security issues on them, it will also provide you with a look into all data related to IPs, IP blocks and their owners, frequency as well as a geolocation map for every VPN IP and hosting provider.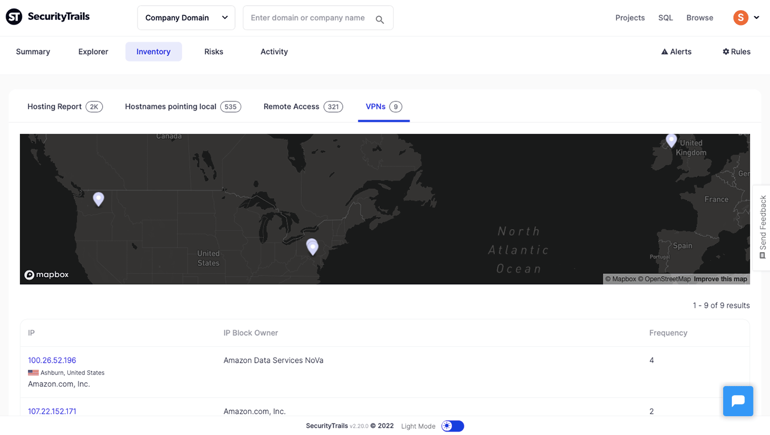 Detect security risks before they become threats
With automated asset analysis, any security risks your organization might face, exacerbated by digital transformation's rapidly evolving infrastructures, are detected and mitigated before any damage can occur.
ASI gives you a security-wise perspective of your organization's digital risk profile and data related to hostnames, their IP addresses, open ports known to be used for databases, self-signed certificates (that if left exposed can provide attackers with knowledge of your internal servers), and staging or development subdomains that contain areas still in development that shouldn't be open to the public (an easy entry point for attackers).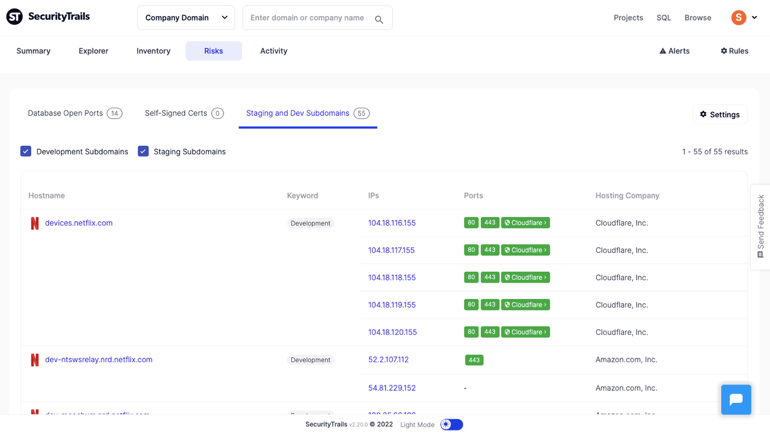 Proactive asset monitoring
ASI also provides you with near-real-time understanding of all newly discovered assets so you can be the first to know when subdomains or domains are added to your organization. And as an added layer of continuous asset monitoring, you can set up custom alerts for any changes to your asset inventory.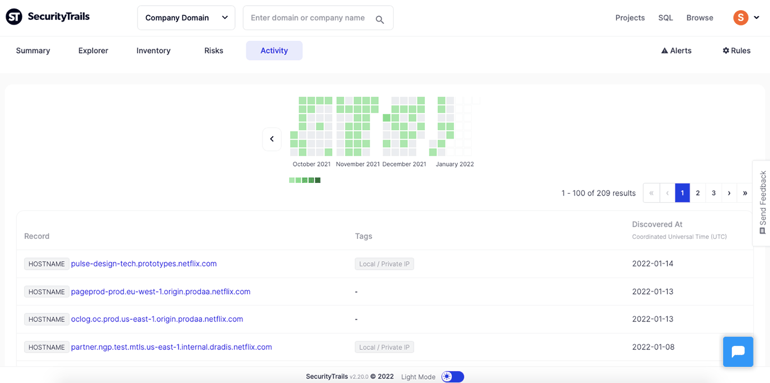 Summary

Digital transformation, together with cloud adoption, diversification of hosting and the many new digital channels used for streamlining operations, user experience and support, drive not only technological advancements but also the expansion of the attack surface. Organizations now have segmented networks and millions of digital assets distributed all over the internet, often unprotected from the prying eyes of malicious attackers.

ASI empowers you with full asset discovery, inventory management, risk detection and continuous monitoring. In other words, this valuable platform is there to help you through every step of attack surface management—staking your claim in success and, above all else, secure digital transformation.

Don't let your organization risk any unknowns while evolving your infrastructure.

Sign up for our newsletter today!
Get the best cybersec research, news, tools,
and interviews with industry leaders