Pricing
Accurate and reliable information security data and tools are a go. Save time gathering and correlating data, so you can focus more on securing your infrastructure.
Attack Surface Intelligence™
Mitigating risk is easy with asset inventory, discovery tools, and monitoring. ASI is a customized solution, please contact us for an estimate.
Sign up for free and get 50 queries a month. Check current and historic DNS records, plus domain and IP data, or pick a more robust solution with WHOIS capabilities.
Explore the surface of any organization: Know DNS records, associated domains, IP blocks, open ports.
The latest intel updated daily. Keep up with changes in Domain/subdomain, SSL certificates, internet-facing assets, and more. Since Feeds is a customized solution, please contact us for an estimate.
Attack Surface Intelligence™
Gain total understanding of your internet-facing infrastructure and manage all your assets easily.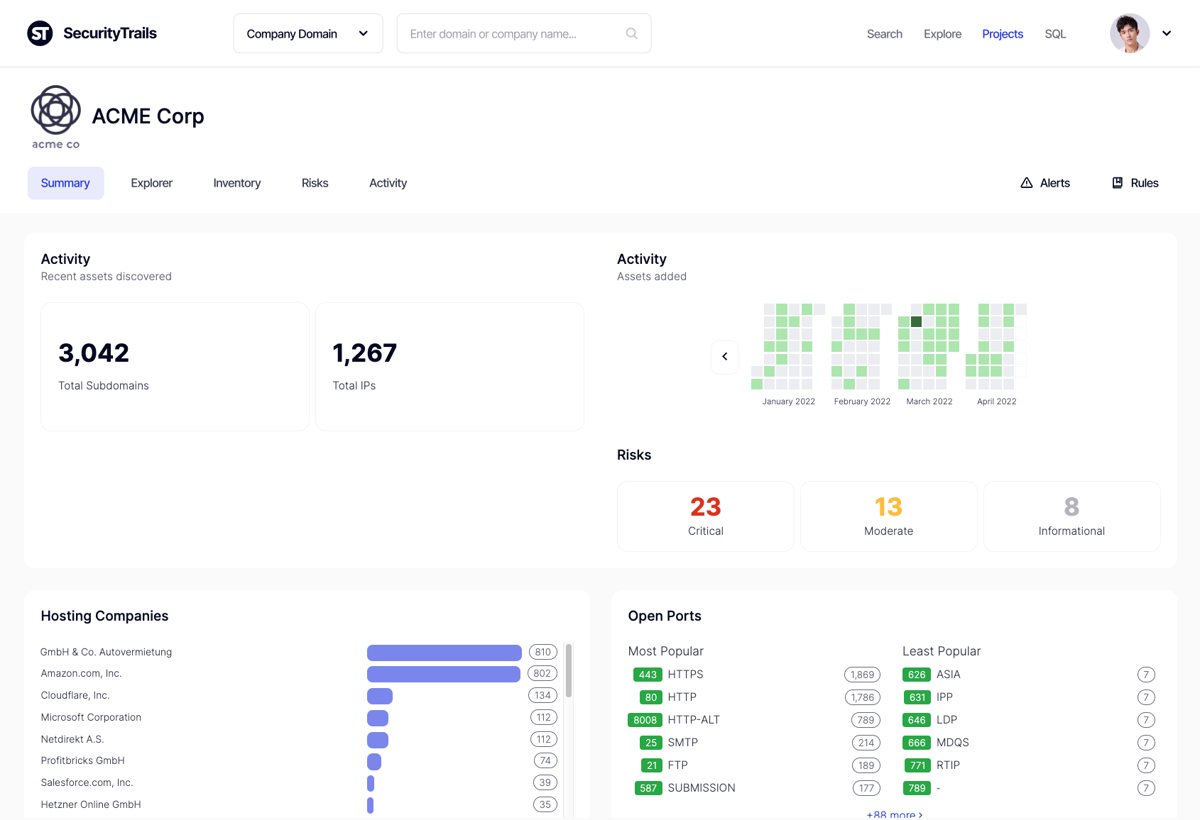 Inventory Management

An easy-to-use web-based dashboard allows you to pivot between IP blocks, domain names, SSL certificates, WHOIS registrars and DNS records.

Attack Surface Intel

Get the full picture about your company's attack surface, see all open ports, affected IPs, domains, hosting provider and more.

Risk Detection

Understand the different security risk that your project may be facing, including: open database ports, self signed certificates, and exposed staging/dev subdomains.

Comprehensive IP Tools

Find IP geolocation, port history, associated devices, IPs, user-agent activity, hosted domains, P2P activity logs, remote access and detected VPNs.
Request Access to ASI
Plan Comparison
Free

Professional

$500/mo

Business

$1500/mo

Enterprise

Contact Us
Volume

Queries per month

50
20,000
65,000
Flexible
Domain

Current DNS records

Historical DNS records

Get Subdomains

Domain WHOIS

Current WHOIS

Historical WHOIS

Reverse WHOIS searching

WHOIS searching
IPS

IP address research

Reverse DNS searching

Advanced Features
DSL - Domain Specific Language

Associated domains

Consulting services

1h on-boarding call
1h on-boarding call
License
For commercial use
Free
Buy Now
Buy Now
Contact us
If you're an student or researcher wanting to use our products please contact us.
SurfaceBrowser™
Know everything about a single domain or any organization's public surface instantly.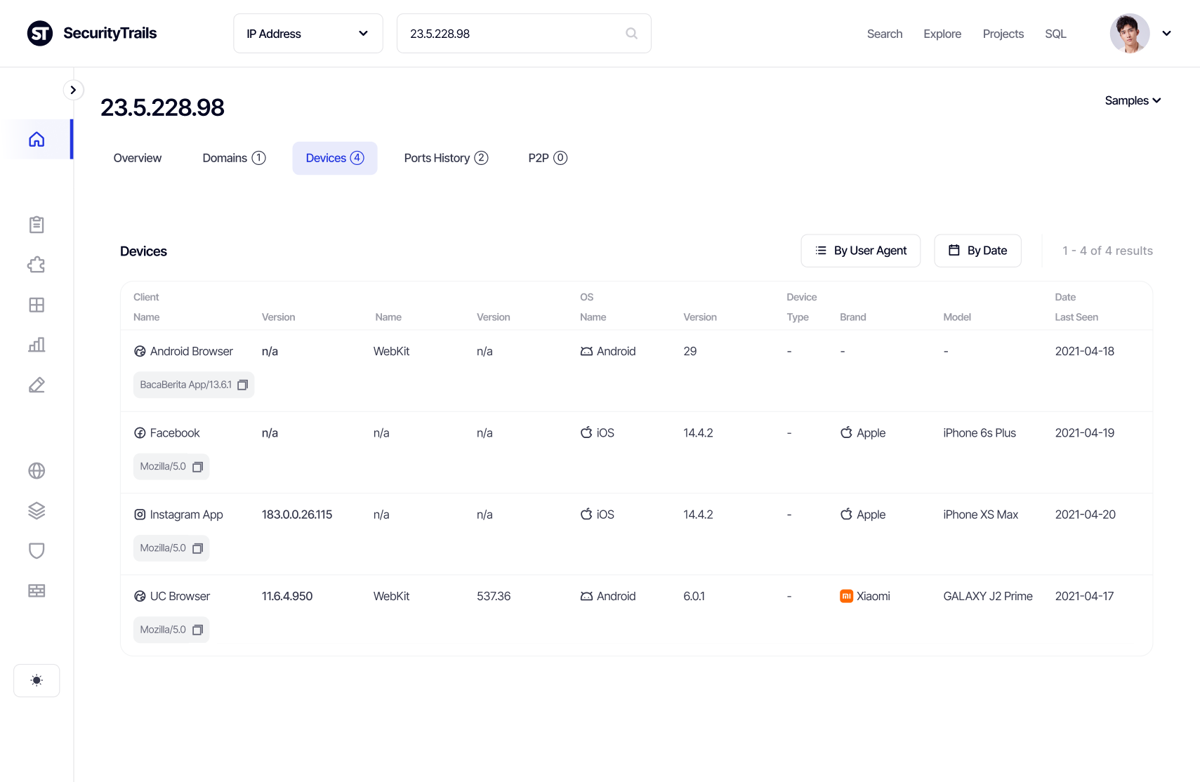 Fast Internet Scans

Updated daily and curated to detect open ports; fetch domain intelligence and critical IP data in seconds.

Search by

Company name, domains, subdomains, TLDs, registrar, DNS values (MX, NS, CNAME, SOA Mail, IPv4, IPv6) WHOIS entries, domain creation, and experation dates.

Company Intel

Find IP blocks, associated domains, subdomains, reverse DNS entries, certificates, WHOIS entries, and DNS history.

IP Data

Get accurate IP geolocation, ASN information, IP type, logged user-agents, and more.
Contact Us
SecurityTrails Feeds™
Get curated and current feeds for your cybersecurity team. Put our data to work on all your web, terminal, and desktop applications for greater awareness.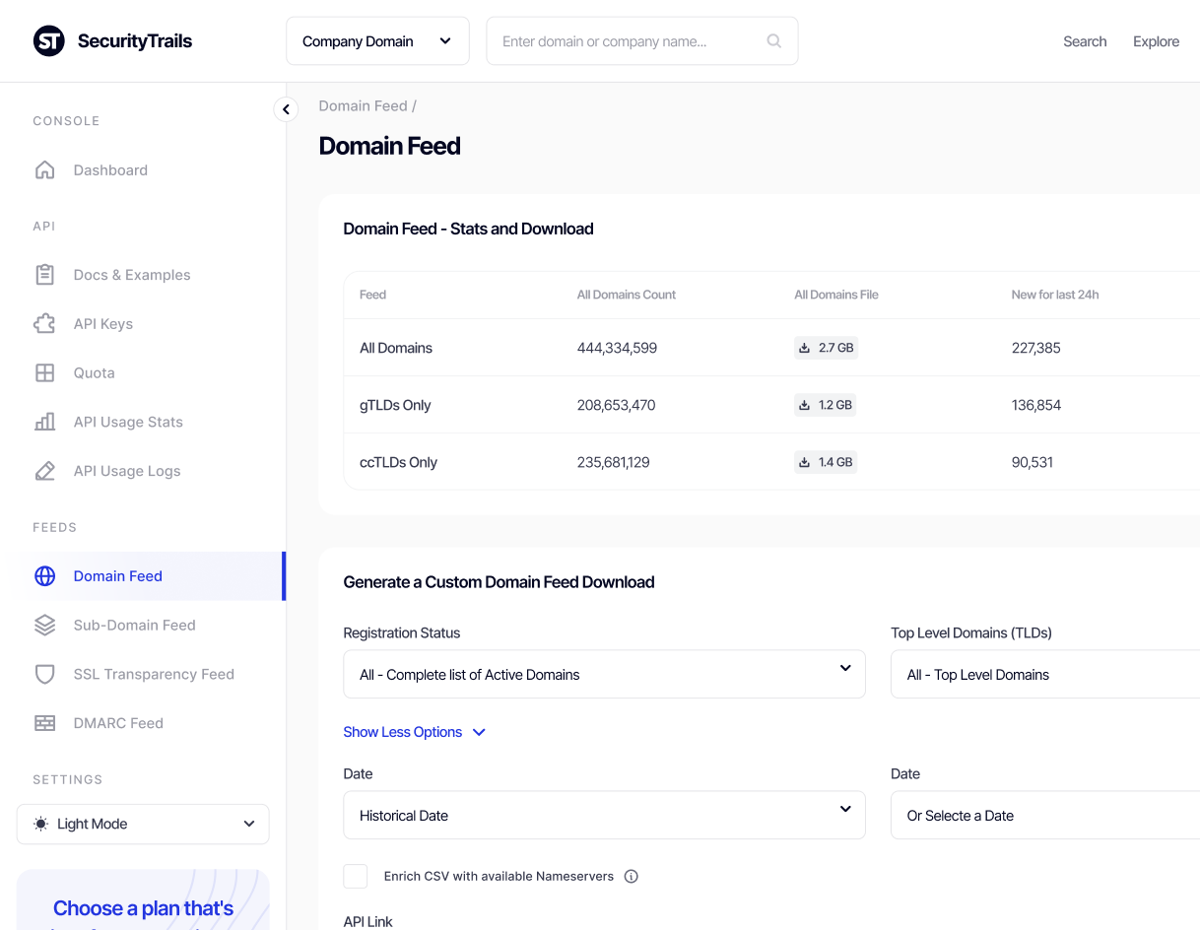 Domain Data

Access a complete list of all domains (ccTLD and gTLD), DMARC scans and full list of subdomains.

Company Intel

Use associated domains to reveal real domain attribution, plus explore all certificate transparency log data.

IP & Port Data

Shine a light on exposed apps and services with exhaustive active and passive port scans.

Custom Feeds

Get fully customized data that's tailored to your applications.
SecurityTrails Feeds™ is a custom solution. Contact us for an accurate estimate.
Contact Us