Today, we are excited to announce the immediate availability of our new SecurityTrails SpiderFoot plugin.
Days ago, we wrote about how excited we were about the SecurityTrails addon for Splunk, and today we are even more happy to continue working on more integrations and collaborating with some other cool projects like SpiderFoot.
Written in python by Steve Micallef (SpiderFoot main developer), the new plugin will allow you to extend SpiderFoot native capabilities so it can be fully integrated with SecurityTrails API. SpiderFoot is a reconnaissance tool that automatically uses open source intelligence to launch queries against public services like DNS, Whois, passive DNS, RBL blacklists, among many other things, to show you the status of the target domain you are investigating.
The data obtained from SpiderFoot can reveal sensitive information about your target website, in a pretty similar way we do on our own platform here at SecurityTrails.
As you can see in the following screenshots, Steve exemplified queries against Trump's Family Domain names registered by generalcounsel@trumporg.com.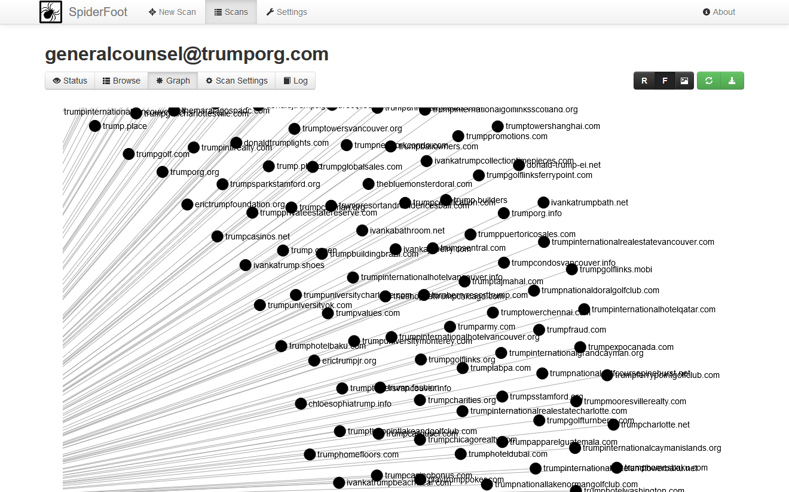 And then displayed the information gathered from SecurityTrails API in two different ways, which includes graphs, and another alternative using a row based style, as you see below: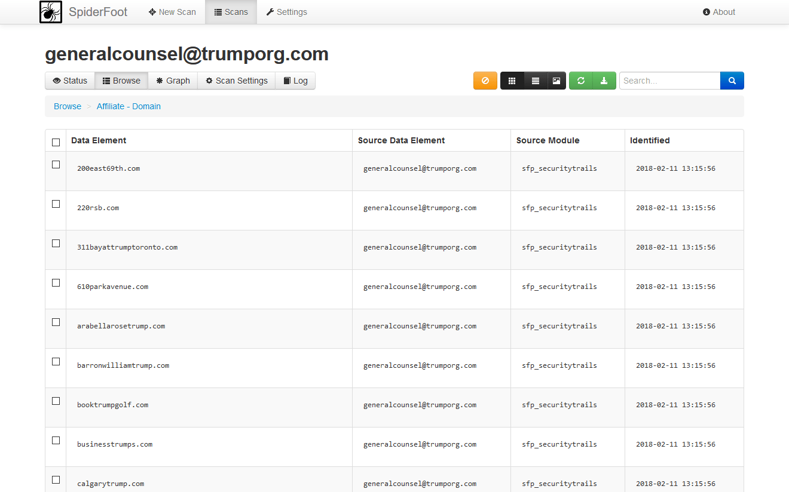 Thanks to our flexible API, and same as Steve did, you can also integrate any of your apps with our powerful intelligent database, and start using SecurityTrails to gather valuable information from any domain, IP or DNS records. Request free API access today!
In the meantime, start using DNSTrails or sign up for SecurityTrails, explore domains, IPs or DNS servers, and get valuable security information for any of your projects or company.
Sign up for our newsletter today!
Get the best cybersec research, news, tools,
and interviews with industry leaders